Time flies when you're having fun... by Locke Brown
Time has been flying by up here in Silicon Valley. With work all day during the week, and class all day on Saturdays, everyone is staying very busy! That isn't to say we aren't having any fun though. On top of work, classes, and the accompanying homework and reading, we've managed to make it into the city to explore, go to baseball and basketball games, and attend cool events with alumni. Some of us have even made it down to CMC to see friends and get a taste of life at home.
Earlier in the semester, we attended a Giants game with the CMC alumni association. This was a great time to get out of Mountain View and have some fun in the middle of the week. It was great to meet and talk to some other alumni from the Bay Area, and seeing the Giants on their way to World Series Champs was pretty exciting too! We also had the opportunity to go over to the president of CMC's Alumni Association, Carol Hartman's house to see the Blue Angels in the San Francisco airshow. It was an awesome opportunity to go into the city, meet alumni, and see some awesome airshow acts!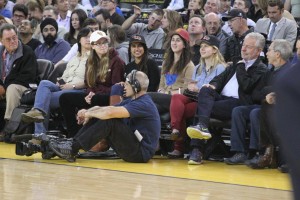 Last week we had the privilege to attend the Warriors basketball game versus the Cleveland Cavaliers. Jonathan Rosenberg hosted the Silicon Valley Students in his box at the Warriors Stadium, providing awesome food and a great time! Even more epic, there were four seats on the very front row of the floor seats right at the half court line. These were arguably the best seats in the house! Everyone had a chance to sit down there for one quarter of the game. It was amazing – you felt completely immersed in the game, and incredibly small compared to all the players.
As the semester comes to an end, we still have some pretty exciting events coming up to help take our minds off of all the looming presentations and deadlines. We will be going to an SVP reception this week, and then have Thanksgiving break the week after. I think everyone is looking forward to Thanksgiving, as it'll be four times longer than any weekend we've had so far! Even with all the work and events coming up, we'll try to savor the remaining four weeks on the Silicon Valley Program.
By Locke Brown