Washington Program
Why intern in Washington?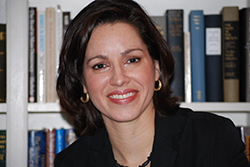 Why the Washington Program? Because you will be part of a proud tradition and open doors to your future. In Washington, D.C., students find that Claremont McKenna College is well-known and that they can obtain prestigious internships. Why? Because those who work in the nation's capital recognize CMC as a top-ranked liberal arts college with a special focus on politics, economics, and leadership that has been sending its best students to participate in the Washington Program since 1972.
More than forty other colleges and universities have started their own Washington programs since then. But Claremont has always maintained a strong program that is distinct and considered to be one of the best. This well-deserved reputation has stemmed from both the nature of the program and the outstanding students selected to participate.
The Washington Program is rooted in a full-time internship and a serious discussion of contemporary political issues. The first component allows students to become immersed in their work environment to the extent that some are considered junior staff members. The second component - two seminar classes and a directed research paper - provides a coherent intellectual framework for the semester. Internship supervisors praise the academic challenges of the program, because they get better student interns as a result.
Claremont students also meet with prominent people in and around politics - from Capitol Hill to non-profit groups, from the mass media to the White House - and have the opportunity to make lifelong friendships as they get to know downtown, the Hill, Dupont Circle, Georgetown, and Adams Morgan. Opportunities to socialize include gatherings at student apartments, going out after classes and on weekends, and trips to places like Gettysburg, Annapolis, and Monticello.
Graduates of the program have been among Claremont's finest, distinguished at graduation by national scholarships and acceptance into leading graduate and law programs. Many program alumni have returned to Washington for careers in government and related fields - in Congress, top law firms, the executive branch, think tanks, high-tech companies, and the media.
If you are considering a career that has to do with politics - in or around government, with a non-profit or an advocacy group, in journalism or policy analysis, with an international organization or a trade association - you need to spend a semester in Washington, D.C., whether you come for the opening of the Court session and the splendid leaves in the fall, or the budget battles and cherry blossoms that fill the spring.
Dr. Elizabeth Spalding