Washington Program
Families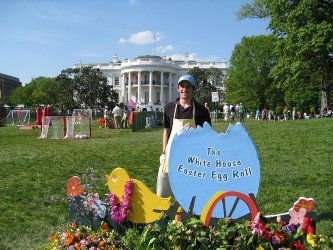 CMC has been sending students to intern in Washington since 1972. The Washington Program is sponsored by our Government Department under the leadership of Professor John Pitney and is administrated by the Office of Off-Campus Study.
In Washington, students enroll in courses taught by our faculty in our facility, and they live independently in apartments that they have leased. Dr. Elizabeth Spalding, Associate Professor of Government, directs the program and she is assisted by two adjunct faculty, Dr. John Haskell and Dr. Adam Wolfson.
Many of our Washington alumni credit their participation in the program for launching their careers. We invite you to become a partner in your student's opportunity of a lifetime. Together we can make it happen.
We hope to answer many of your questions. Feel free to contact us if we can be of any help.
Health and Safety
The health and safety of our students is a top priority at CMC. While we acknowledge that there is risk in living and working in any city, rest assured, we treat safety very seriously. This starts with interns taking responsibility for their own safety and renting an apartment in a safe neighborhood and continues with the following:
At orientation, all student interns receive a wallet-sized emergency card with contact information for CMC staff in Claremont and in Washington, DC.
In a three-hour session during orientation week in Washington, security expert Scott Carle walks the students through emergency preparedness and a safety checklist of living and working in the nation's capital. A consultant for the college, Mr. Carle has over thirty years of experience in law enforcement and the U.S. military.
Students receive an emergency kit with supplies to use in case of an emergency.
Students' emergency contact information is always available for the on-call dean from the Dean of Students Office.
To reach campus security, dial (909) 621-8170.
All students from the Claremont Colleges are entitled to five free sessions with a psychological counselor.
Students are given a list of suggested medical facilities during orientation.
Last, but certainly not least, Dr. Elizabeth Spalding, our director in Washington, D.C., is available to assist students and can be reached via cell phone 24/7.