Information for Applicants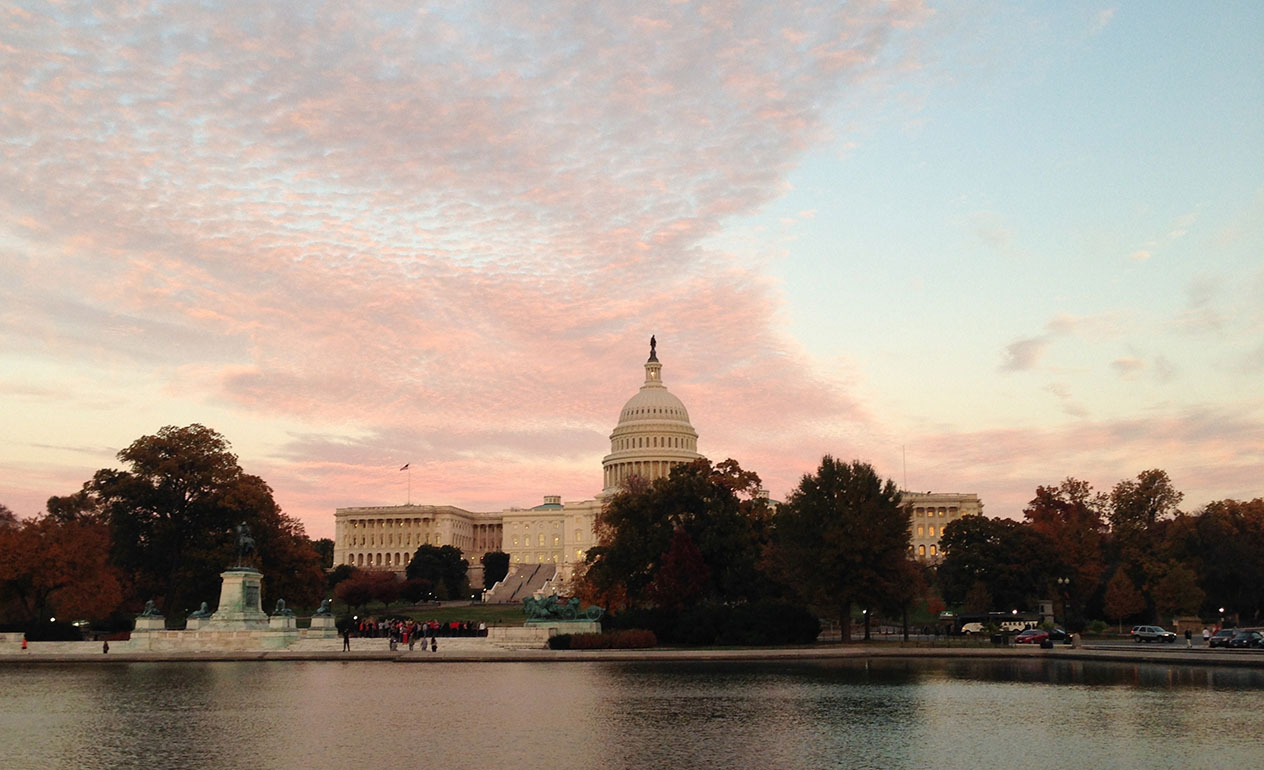 Application and Selection Process
Application Requirements
Completed application form.
Resume.
Official transcript (Pomona, Scripps, Pitzer & HMC); CMC students give permission to obtain an unofficial transcript by signing the application form.
Letter of recommendation from a faculty member on college letterhead.
Two short statements as described in the application.
Students are encouraged to be on campus during the semester of application. Students may apply early (one year in advance) if they want to study abroad before the Washington Program. Fall interns will apply in September and spring interns will apply in February. The student should take into consideration the destination of their study abroad semester and the relative ease or difficulty of the communication system in the location for obtaining an internship, securing housing in Washington, and getting to know the other students on the program.
CMC students who intend to also study abroad after the Washington Program are subject to a special study abroad application deadline. These students must attend a study abroad orientation before leaving campus. Pomona students planning to study abroad following their semester in D.C. are strongly advised to complete their study abroad application concurrently with their Washington Program application and should contact the Pomona Office of Study Abroad. Pitzer and Scripps applicants must follow the guidelines from External Studies and Off Campus Study at their respective home school, as well as complete a CMC application. Any student who withdraws after committing to the program will pay a $500 withdrawal fee. Furthermore, failure to attend the orientation meeting is tantamount to withdrawal from the program.
The selection committee takes into consideration academic preparation, writing and analytical skills, maturity and ability to succeed on the Washington Program. The committee considers applicants' academic records, resumes, and faculty letters of recommendation. Most importantly, the committee conducts a professional interview with each applicant, where students are expected to address their goals for the Washington Program and demonstrate that they have the maturity and organizational skills needed to live independently while they commute to work in a full-time professional setting, and pursue rigorous evening coursework. Applicants should be able to show that they have researched several organizations at which they would like to intern and that they have a working knowledge of what sort of work they will complete during their internship. Following this professional interview, students receive prompt notice of the selection committee's decision.
Please note that arranging your own internship in Washington does not guarantee you a place in the program.
Application Deadlines
Spring 2017 Dates for Fall 2017 Internships
Information Session
Tuesday, January 31, 2017
Davidson Lecture, Adams Hall
7:00 to 9:00 p.m.

---

Department of State Deadline
(State Dept. internships/security clearance)
March 1 for fall semester internships
July 1 for spring semester internships

---

Deadline for Scripps students
Contact Scripps Off-Campus Study

---

Deadline for Pitzer students
Contact Pitzer Off-Campus Study

---

Application Deadline
Off-Campus Study before 5:00 PM
Monday, February 13, 2017
Off-Campus Study Office, Heggblade

---

Faculty recommendations due.
Monday, February 13, 2017
by 5:00 p.m.
Off-Campus Study Office, Heggblade

---

Interviews
Monday - Thursday
February 27 to March 2, 2017


Off-Campus Study Office,

Heggblade

---

Notification letters to applicants via email.
Friday, March 3, 2017

---

Accepted students make their final decisions.
Withdrawal after this date subject to $500 fee.
Monday, March 6, 2017
Eligibility
Open to second-semester sophomores, juniors, or first-semester seniors in all majors at any of the Claremont Colleges.
Minimum GPA required: 9.0.
Prerequisite: Government 20 or Politics 3 (completed before the semester of application).
Transfer students must complete one semester at the Claremont Colleges before applying.
Applicants and selected interns must be free of academic or disciplinary probation.
In addition to Introduction to American Politics, it is highly recommended that students take an advanced American government class such as Congress or the Public Policy Process and a course in post-Civil War U.S. history.
This program grants four course credits. CMC and Pomona government students may count two courses towards the major (not including Government 30, the internship course). Government 30 meets the experiential requirement for the Leadership Sequence. Credit in other majors may also be possible, but this requires advance planning with and approval from the applicable department or program.
Students will normally not have the credit/no credit option on any program courses. The program will permit this option only in extraordinary circumstances (e.g., serious illness) and only with the consent of both the course instructor and the program director.
Obtaining Major Credit for the Research Paper
Economics
With advance notice and planning, students can obtain Economics major credit in Washington for the research paper. Interested students must select an internship that can support an economics research paper. Examples would include the Federal Reserve, the Council of Economic Advisors, or the General Accounting Office. Students also need the approval of the department chair for permission to register in Economics 199, which must be done no later than the drop/add deadline of the semester in Washington. If approved, the Chair will assign students to a reader in the Economics department at CMC.
International Relations
With advance notice and planning, students can obtain IR credit in Washington for the research paper (Government 127). The paper must address an appropriate international topic and students are responsible for obtaining approval for credit from the chair of the International Relations Committee. They must also select an internship that can support an IR research paper. Examples would include the State Department, international agencies that specialize in trade issues, or public interest groups that focus on human rights. The research paper will be supervised by a member of the Washington Program faculty. Government 30, the internship course, cannot count towards the major. Government 125: Readings in American National Politics is approved for credit toward the IR major.
Security Clearances
Some internships, such as those at the departments of Defense, Justice, and State, may require applicants to submit to a thorough background examination or security clearance. Security clearances can produce months of delay before an agency or organization can allow a student to intern. While our students almost always pass this type of examination, the ensuing delay can ultimately make an internship an impractical match for the program. Students cannot begin the Washington Program with only a promise that their clearance will be forthcoming.
In order to minimize the risk of depending upon a security clearance that is slow to materialize, we recommend that students take the following steps:
You must meet the Department of State deadline, which is months before the Washington Program application deadline. The deadline for application for fall internships at the Department of State is March 1, while the deadline for spring internships is July 1 of the previous year. It is also recommended that you submit your security clearance application well in advance of the Department of State deadline.
Never apply solely to internships requiring a security clearance. Pursue other attractive alternatives and keep them open as options until the security process is complete.
Give the organization requiring a clearance a deadline beyond which you are no longer able to take the internship. This should, of course, be a reasonable one. One week before the beginning of the semester (i.e. two weeks before the internship begins) is not an unreasonable deadline for a security clearance to be completed. If an organization cannot accept this, there is a very good chance that the clearance will not be completed in a timely manner.
Return immediately all materials related to a security clearance and send them by express mail with verification of receipt. Also, keep a log of all conversations with the organization related to your security clearance. This log should record with whom you spoke, the substance of the conversation, and the date.
NEVER cancel or reschedule an appointment for your security interview (not all clearances requires this interview). This will effectively rule out the possibility that the clearance process can be completed by the time you arrive in Washington.
Awards
Four special awards are available each semester to CMC participants in the Washington Program. The Margaret Martin Brock Internship Award and the Claremont McKenna Internship Award each provide two students a stipend. The selection process occurs at interviews and the award recipients receive the stipend through the program office after arrival in Washington. Award recipients are required to contribute to the Washington Program blog during the semester in Washington.
Students who have an interest in public service and governmental studies with the promise for a future career in public policy will be considered for the Dreier Roundtable Scholar Award. This award covers $3,000 in living expenses.
Cost and CMC Financial Aid
Students from other Claremont Colleges should check with their home institution for financial policies. CMC students pay tuition and the student activity fee. Students use the room and board money not paid to CMC (approximately $7,640.00*) to cover living expenses while on the program.
Program Cost:*

Tuition
Student Activity Fee

Total

*based on 2016-2017 fees

$25,350.00
$122.50
___________
$25,472.50

Financial aid for CMC students is based on an estimated budget. For the Washington Program, the budget is increased by $2,000.00 for a DC cost of living adjustment.

DC Semester Estimated Budget for Financial Aid

Tuition
Student Activity Fee
Room
Board
Books
Personal
DC Cost of Living Adjustment**

Total

$25,350.00
$122.50
$4,235.00
$3,635.00
$450.00
$550.00
$2,000.00
___________
$36,342.50
**This adjustment is intended to account for a higher cost of living and additional associated expenses of living, interning, and studying in Washington, DC. These expenses may include: monthly transportation costs, home furnishings and supplies, utilities, and a professional wardrobe.
For additional information regarding specific loans and aid, please contact the Office of Financial Aid.
Housing
There are no CMC housing facilities available on the Washington Program. Students are responsible for arranging their own independent housing in D.C. During the orientations in Claremont, students are given the necessary tools and guidance to finding housing and selecting roommates. This information includes descriptions of different neighborhoods in Washington and the surrounding suburbs, a housing resource guide, and specific websites where students can research available housing.
Washington Program students often live together in group housing, which reduces costs and eases the challenge of living off-campus in a new city. Once accepted, interns should also discuss Washington housing with alumni of the program, current interns, or any other contacts they may have in the D.C. metropolitan area.
Budgeting
Housing is the biggest expense for students enrolled in the Washington Program. Typical monthly rents average $1,000-$1,200 per person, with the critical variables being the number of other students in the apartment, the location and condition of the housing, whether utilities are included, and whether the apartment is furnished. During the winter (December through February), monthly electric and gas bills can range from $200-$300 per apartment if not included in the rent. Other costs include monthly telephone and internet service bills.
Household bills vary according to taste and inclination. Packing lunches and bulk shopping will help lower the overall expenses, as will regular preparation of meals in the apartment. The average is around $500 per month for food and general household supplies.
Transportation options in Washington include buses, Metro, taxis, biking, and walking. Students should budget $400-$700 per semester for public transportation and taxis. This amount will vary depending on the mode of transportation and location of the student's apartment and internship.
Entertainment is another important budget item. Most museums and monuments are free, and the Kennedy Center has free live entertainment every night, but there are many other options at various costs available throughout the D.C. area. Part of the Washington experience is sampling the wide variety of restaurants-not all of which are overly expensive. For those over the age of 21, bars and clubs are a big part of the Washington scene; some places offer specials or have no cover charges. Be sure to bring your student I.D. in order to take advantage of discounts at movies, shows, and certain exhibits.
Other expenses to plan for include furnishings (if necessary), apartment supplies, dry cleaning, activities, travel, a winter coat, a professional wardrobe, and shipping accumulated items home at the end of the semester.
Finally, budget approximately $300 for textbooks and newspapers for the semester.
Transportation
CMC will reimburse students in the Washington Program for up to a specified amount towards the cost of round-trip, economy airfare to Washington, D.C. This amount is set each semester according to reasonable airfares from LAX to the Washington area (BWI, Dulles or Reagan). This allowance includes the cost of baggage. Because of federal tax regulations, CMC can only reimburse students for actual expenses, so students must provide receipts in order to be reimbursed. Students can only be reimbursed after all travel is completed, and reimbursements are not available for travel during school breaks. Students traveling by car, train, or bus may also receive reimbursement up to the maximum travel allowance.More information on how to claim reimbursement and how to travel to Washington will be provided at the first orientation meeting.