Washington Program
Returning to Claremont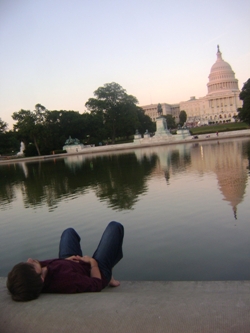 Congratulations! You are now a member of a very select group of Washington Program alumni. We suspect that the time flew by rapidly for you in Washington and hope your semester was as challenging, rewarding, and exciting as you thought it would be. Congratulations for leaving your comfort zone, for living in such a fast-paced, challenging location as D.C., and for succeeding in the program. As you return to Claremont, we would like you to keep several things in mind:
First, please take the time to complete the Washington Program evaluation form. The Washington Program is a very important program to CMC and we constantly strive to make it better. Your feedback is extremely important to us and we hope that you will take time to share your comments.
Our office hosts an alumni get-together with Dr. Spalding each semester. You will receive an invitation when you return to campus.
We will be having a photo contest. For more information, please see our Photo Contest Page.
We will be having an information session to advertise the program, and we may call upon you to help us at this meeting, during the interview/orientations meetings, or to talk one-on-one with prospective applicants.
We look forward to seeing you!