Deanna
Needell
, Ph.D.
My research interests include Numerical Analysis, Geometric Functional Analysis, Statistics, Probability, Applications to Computer Science, and Scientific Computing. In particular, I work in the area of Compressed Sensing. I graduated with my PhD from UC Davis, under my adviser Roman Vershynin. I was a postdoctoral fellow in the Statistics Department at Stanford University, working under Prof. Emmanuel Candès. I am now an Assistant Professor in the Mathematics and Computer Science Department at Claremont McKenna College.
Selected Research and Publications
http://www1.cmc.edu/pages/faculty/DNeedell/papers.html
Selected Awards and Affiliations
See CV for full list of awards. Recent awards:

NSF CAREER AWARD, 2014-2019

Alfred P. Sloan Fellowship

Simons Foundation Collaboration grant

AMS-Simons Travel grant

IEEE Best Young Author Paper Award

Univ. of Nevada Alumni of the Year Award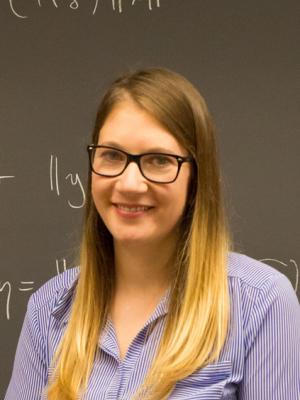 Deanna Needell, Ph.D.
Associate ProfessorEducation: PhD in Mathematics University of California, Davis, May 2009 Dissertation Title: Topics in Compressed Sensing. Adviser: R. Vershynin. MA in Mathematics University of California, Davis, Sept. 2005 BS in Mathematics with High Distinction Second major in Computer Science University of Nevada, Reno, Dec. 2003Department(s): Mathematics & Computer ScienceOffice Hours: Monday, 1-2 p.m.Wednesday, 5:30-6:30 p.m.Email: dneedell@cmc.eduPhone: (909) 607-1064Address: Adams Hall 207Website: http://www.cmc.edu/pages/faculty/DNeedellCurriculum Vitae:
deanna_cv.pdf
Media Contact
For more information, please contact the Claremont McKenna College Public Affairs Office at (909) 621-8099