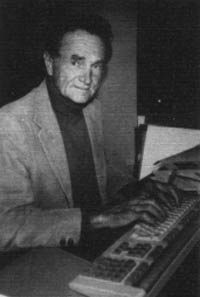 An Alternative to Star Wars
JACK MERRITT
THURSDAY, SEPTEMBER 10, 1987
Jack Merritt, emeritus professor of physics at CMC, who has done extensive work on nuclear strategy and arms control, issues the following invitation for an evening of discussion (which begins with an Athenaeum reception and dinner at 5:30 p.m.):

"Come to a progress report on the problems of shifting from nuclear deterrence by threat of offensive retaliation to deterrence by defense. Last spring I gave an Athenaeum talk outlining a possible path from today's MAD world to deterrence by defenses. The talk was based on a short article written by my son and myself."

"Late this spring we sent the article out for comment to about 20 experts. Included in the group were former Secretary of Defense Harold Brown; Ambassador Gerard Smith, who negotiated the ABM; Gen. Brent Scowcroft, former National Security Adviser to President Ford; and Dr. Robert Cooper. I will report on our current views in light of their comments."

Use the reservation coupon in this Fortnightly to sign up.