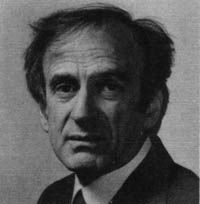 Conversation with Elie Wiesel
ELIE WIESEL
WEDNESDAY, FEBRUARY 24, 1988 11:00 a.m. McKenna Auditorium
An Evening with Elie Wiesel
ELIE WIESEL
WEDNESDAY, FEBRUARY 24, 1988 8:00 p.m. Bridges Auditorium
0nce again the Athenaeum welcomes distinguished novelist, playwright, and essayist Elie Wiesel. Not only is Wiesel a world-renowned authority on Jewish tradition and culture, he is also a survivor of the Nazi death camps at Auschwitz, Birkenau, and Buchenwald. Since his emergence from this horror, Wiesel has been "an eloquent and untiring witness" to the time-a spokesman for the Jews of the Holocaust.

Wiesel is the author of eight novels, several volumes of essays and short stories, a play, and an autobiographical memoir. He has been awarded numerous honors for his contributions to literature and to human rights. In 1986 he was named the recipient of the Nobel Peace Prize, a testimony to his lifelong devotion to the human cause.

Because we anticipate a large and enthusiastic response to Elie Wiesel's visit, our programs will be held in McKenna and Bridges auditoriums according to the following schedule:

Wednesday, February 24, 1988
NO SIGN-UPS REQUIRED

11:00 a.m.-12:00 p.m.
Conversation with Elie Wiesel
McKenna Auditorium, CMC

8:00 p.m.
An Evening with Elie Wiesel
Bridges Auditorium
Fourth Street & College Way

Elie Wiesel's visit is being sponsored by the Athenaeum, the Scripps College Humanities Institute, the Office of the Chaplains and Hillel of The Claremont Colleges.