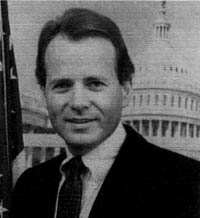 What This Election Means to You
DAVID DREIER '75
TUESDAY, NOVEMBER 1, 1988
Will the 1988 presidential race carry forward the ideals of the current administration, or will this election prompt a significant change in the politics of the nation? As an active participant in the "Reagan revolution," Congressman David Dreier will share his views on these and other important issues on Tuesday, November 1, in his speech "What This Election Means to You."

A native of Missouri, Dreier graduated with honors in political science from Claremont McKenna in 1975. He first sought public office in 1978, when he was the Republican nominee in California's 35th Congressional District. At 25, he was the youngest major party nominee in the nation. His election to Congress in 1980, along with the election of many like-minded candidates, marked a major shift in public opinion about the appropriate role and direction of government.

Throughout his political career Congressman Dreier has fought for the ideals of limited government, a free economy, and individual freedom. In the House, Dreier has won seats on the Banking, Finance and Urban Affairs, and Small Business committees. Primarily focusing on economic issues, he has written legislation on income tax reform, privitization of government services, and reducing unnecessary federal regulations.

After the 1980 election much of the 35th District was reapportioned into the new 33rd District. As a result Congressman Dreier was forced to run against a fellow Republican incumbent in the 1982 primary. By winning that election, the 29-year-old Dreier became the only member of Congress in recent history to upset two senior congressmen in successive elections. He has won re-election by a wide margin ever since.

We encourage you to join us at 5:30 for a reception and dinner preceding Congressman Dreier's 7:00 presentation at McKenna Auditorium. To ensure your seat for dinner, please complete the coupon and return it to the Athenaeum.