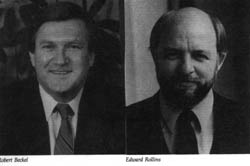 Managing a Presidential Campaign
BOB BECKEL
ED ROLLINS
MONDAY, OCTOBER 24, 1988
As authors of opposing columns in the Los Angeles Times' Sunday opinion section, Ed Rollins and Bob Beckel do not often see eye-to-eye. Combining political savvy, extensive campaign experience, and sharp wit, they are sure to present informed and contrasting opinions in their presentation, "Managing a Presidential Campaign." Their visit to CMC is sponsored by the John Brown Cook Association and the Athenaeum.

Currently serving as executive vice president with a Washington, D.C., strategic communications firm, Rollins has held positions in the Nixon, Ford, and Reagan administrations. In 1983 he took a leave of absence from his office as assistant to the president for political affairs to serve as the national director of the Reagan-Bush '84 campaign. In addition, he has managed numerous political campaigns throughout the country and had managerial roles in the Nixon and Reagan campaigns. Most recently Rollins served as the national chairman of the Kemp for President campaign.

Bob Beckel began his political career in the 1968 campaign of Robert Kennedy. After a tour in the Peace Corps in 1970-71, he started a political consulting firm handling campaigns in more than 30 states. In his first major campaign Beckel served as national campaign manager for Walter Mondale's successful race for the Democratic nomination in 1984; he is credited with pulling the campaign together after its defeat in the New Hampshire primary. In 1985 he formed National Strategies and Marketing Group, Inc., an innovative consulting firm specializing in grassroots campaigns and regional marketing campaigns for some of this country's leading corporations. Beckel has appeared often on CBS News and NBCs "'Today" show and is a frequent guest on television's "Face the Nation," "Crossfire," "Meet the Press," and "Firing Line."

Please return the coupon to attend the 5:30 p.m. reception, 6:00 dinner, and 7:00 presentation.