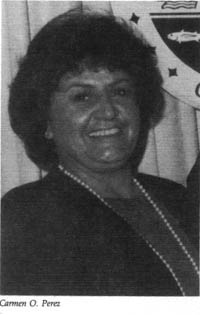 Women Swinging the Vote
EILEEN PADBERG
CARMEN PEREZ
TUESDAY, OCTOBER 25, 1988
Both Eileen E. Padberg and Carmen 0. Perez are women making things happen in contemporary politics. Eileen Padberg served as western regional director for the George Bush campaign for California, Nevada, and Hawaii, and Carmen Perez is serving as the coordinator for Dukakis' Campaign '88. They will be addressing the topic of "Women Swinging the Vote".

Eileen E. Padberg has been involved in public affairs and political campaigns for more than 15 years. She is an officer of the American Association of Political Consultants and is an active member of the International Association of Political Consultants.

Carmen 0. Perez has served on the Democratic National Committee as national chair of the Hispanic Caucus of the National Democratic Party, and is the only Hispanic woman in the nation sitting on the Democratic International Board for the National Endowment for Democracy.

Join us for an insightful look at the campaigns of both camps. The reception and dinner will begin at 5:30, followed by their presentation at 7:00. If you are interested in attending, please fill out the coupon and drop it by the Athenaeum.