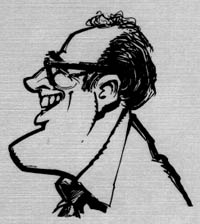 The Election From a Political Cartoonist's Point of View
PAUL CONRAD
MONDAY, OCTOBER 31, 1988
This Halloween "treat" yourself to an evening with Paul Conrad, one of the great editorial talents of our time. He will be addressing the topic of "The Election From a Political Cartoonist's Point of View."

For more than 30 years Paul Conrad has produced editorial cartoons of unparalleled graphic and ideological genius. Chief editorial cartoonist for the Los Angeles Times since 1964, Conrad draws bold -often brutal-cartoons on a variety of issues that draw strong reader reactions.

A Pulitzer Prize-winning editorial cartoonist, Conrad is one of only five people to have received this prestigious award three times. His drawings have appeared in hundreds of newspapers and in the major news magazines. Among his publications are Drawn and Quartered (1985) and Pro and Conrad (1979).

Please join Paul Conrad as he examines politics from a unique perspective. The reception and dinner will begin at 5:30, followed by his 7:00 p.m. address. Use the coupon to ensure a seat at this event.