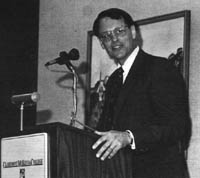 Religious Freedom and Human Dignity in the Soviet Union
JOHN ROTH
WEDNESDAY, SEPTEMBER 13, 1989
Although the dinner is open to freshmen only, anyone may attend the first address in a new series entitled "The Soviet Union Today and Tomorrow: A Time for New Thinking."' This series is sponsored by the Gould Center for Humanistic Studies, the Keck Center, and the Marian Miner Cook Athenaeum. Specialists on the Soviet Union will visit CMC throughout the 1989-90 college year, and each will attend an Athenaeum dinner and give a public address in McKenna Auditorium.

John K. Roth is one of Claremont McKenna College's most popular professors. His reputation has traveled far beyond CMC; last year he was selected as Professor of the Year for the United States and Canada by the Council for Advancement and Support of Education (CASE) and the Carnegie Foundation for the Advancement of Teaching. As chairperson of CMC's philosophy department and co-administrator of the PPE program, Professor Roth spends countless hours with students in and out of the classroom. His wide-ranging interests are apparent in his teaching and research. He has written 15 books and dozens of articles. Professor Roth graduated from Pomona College, where he first decided to become a teacher because he loved his experiences in a small school. He earned his doctorate in philosophy at Yale University, and has been teaching at Claremont McKenna College ever since.

This summer Dr. Roth visited the Soviet Union to attend a conference, "Human Dignity and Jewish and Christian Tradition," in Moscow, where he delivered the keynote address.

His address, which begins at 7:00 p.m. in McKenna Auditorium, is entitled "Religious Freedom and Human Dignity in the Soviet Union."

All freshmen are signed up for the 5:30 reception and 6:00 dinner preceding Dr. Roth's address. If a freshman is unable to attend the dinner, please stop by the Athenaeum between 8:00 a.m. and 5:00 p.m. prior to September 11, and let us know. You will not be able to eat in Collins unless you are crossed off the Athenaeum list.