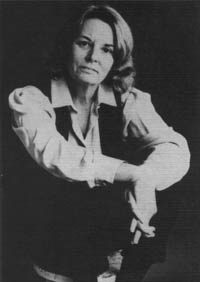 An Evening of Poetry
ELLEN GILCHRIST
THURSDAY, SEPTEMBER 28, 1989
Ellen Gilchrist was born on the banks of the Mississippi River. Her first job, at 14, was writing a column for a local Franklin, Kentucky, paper.

Ellen Gilchrist's first collection of short stories, In the Land of Dreamy Dreams, was published in 1981. She is also the author of The Annunciation (1983), Victory over Japan (1984), Drunk with Love (1986), and Falling through Space (1987). Her latest book is The Anna Papers (1988).

Ms. Gilchrist has won the American Book Award for fiction, as well as many other prizes for her writing.

She is also a beautifully sensitive poet; her work has appeared in numerous publications and has received universal acclaim. The titles of some of her poems tell us of her interest in people and the American scene-"The Other Woman," "The Old Man," "Dr. Davis Watches His Muscular Dystrophy Daughter Do Her Dance," "The Stepmother;" "Leaving the Clinic," "A Letter from Alaska, " and "The Land Surveyor's Daughter."

Join us for an evening with Ellen Gilchrist by filling out the coupon in this Fortnightly.