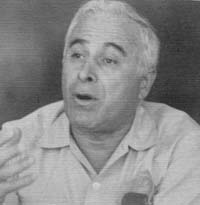 Go Tell the Spartans
TED POST
WEDNESDAY, OCTOBER 25, 1989
"Ted Post has created a masterpiece. Go Tell the Spartans is beyond question the greatest work to date on the Vietnam involvement. It is one of the noblest films, ever, of men in crisis," said Roger Greems of The Cincinnati Enquirer when Mr. Post's Go Tell the Spartans first came out in 1976.

Mr. Post is a three-time nominee for best director of the year by the Directors Guild of America and two-time recipient of the coveted Western Heritage Award for directing. He has directed hundreds of stage, screen, and television productions, featuring many of Hollywood's top stars. His feature films include: Beneath the Planet of the Apes (1970) and, of course, Go Tell the Spartans (1976), which was hailed by critics as one of that year's ten best films. For television he piloted "Cagney and Lacy" and "Perry Mason," among many others.

Mr. Post is the fifth speaker in the Athenaeum's series on the Vietnam War. His talk begins at 7:00 and is preceded by a reception at 5:30 and dinner at 6:00. Please fill out the reservation form, if you wish to join us for dinner.