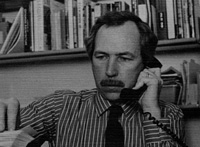 The Globalization of Censorship: The Case of Salman Rushdie
JACK MILES
THURSDAY, FEBRUARY 22, 1990
The first of the annual spring lectures by the Gould Center's 1990 scholar-in-residence will be given by Jack Miles, editor of the Los Angeles Times' book review section.

The title of Mr. Miles' s lecture is "The Globalizaiton of Censorship: The Case of Salman Rushdie." Salman Rushdie is more than an author whose novel, The Satanic Verses (1988), has succeeded in arousing the ire of Islamic fundamentalists. He is a novelist who seems to be leading the way to a new kind of postmodernism.

This lecture is the first of three to be given by Mr. Miles during his tenure at the Gould Center for Humanistic Studies. The overall title of the series is "The Perils of Pluralism." Following the inaugural lecture, Mr. Miles, who has been a long and careful observer of the American publishing scene, lectures on February 27 on "The Editor as Postmodern Culture Hero, or Book Publishing and the Literary Canon"; and on March 1 he addresses "Simulation and Assimilation." Both of these lectures will be given in the Bauer Center Founders Room, starting at 4:15 p.m.

Since assuming his position at the L.A. Times in 1985, Mr. Miles has succeeded in making the book review section one of the most respected in the nation. Before joining the Times, he was executive editor with the University of California Press at UCLA. He holds a PhD from Harvard University in Near Eastern Languages. He has taught at Loyola University of Chicago, and was a postdoctoral fellow at the University of Chicago, before deciding to begin his career in publishing.

The Marian Miner Cook Athenaeum invites you to attend the 5:30 reception and 6:00 dinner preceding the 7:00 lecture. Please fill out and return the enclosed reservation coupon to the Athenaeum.