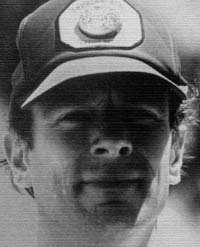 Greenpeace: Past, Present, and Future
CHRISTOPHER CHILDS
THURSDAY, OCTOBER 11, 1990
Americans now are paying close attention to the way we treat Mother Nature. Greenpeace, however, has been internationally dedicated to the protection of the "fragile web of life on our planet" for 19 years.

Greenpeace developed in 1971, when a group of Americans and Canadians attempted to stop nuclear testing on Amchitka Island in Alaska. Although unsuccessful in their efforts, the group rallied support from other activists interested in the fight for the environment. As a result, Greenpeace has evolved into a worldwide volunteer organization that uses nonviolent direct action to protest, protect, and defend the environment.

The Marian Miner Cook Athenaeum welcomes Christopher Childs, who shares with us his experiences as an environmental activist with Greenpeace, as well as the concerns and activities of this international organization. He joined Greenpeace in 1987, while employed as a technician with a commercial environmental testing laboratory. Mr. Childs has had previous experience with the Massachusetts Acid Rain Monitoring Project.

On this night of consciousness raising, the history and activities of Greenpeace will come alive with a colorful photographic slide presentation. Mr. Childs, the first in a series of speakers on "Saving Our Environment," will take us on a journey through Greenpeace's past, present, and future. If you would like to attend the reception and dinner prior to Mr. Child's presentation, please return the enclosed form.