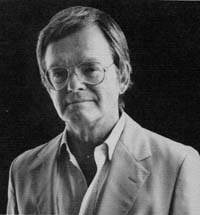 The Zapping of America: Microwaves, Their Deadly Risk, and the Coverup
PAUL BRODEUR
TUESDAY, JANUARY 29, 1991
We are quickly becoming aware of the importance of protecting our enviroment, but we are often less aware of how harmful the environment is that we have already created around us. Paul Brodeur has dedicated his energies to informing the public of such dangers. A staff writer for The New Yorker since 1958, Brodeur began focusing on medical and scientific writing, especially on the public health threat posed by asbestos, during the 1960s. Since then he has written numerous articles and books warning the American public about the health hazards of microwave and radio frequency radiation and electromagnetic fields given off by power lines, electric blankets, and video display terminals. In 1989 the United Nations Environment Programme named Brodeur to its Global 500 Roll of Honour for his outstanding environmental achievements.

Brodeur graduated from Harvard in 1953 with a bachelor's degree in English, and then joined the U.S. Army Counterintelligence Corps. While at The New Yorker, Brodeur has also taught at the Columbia University Graduate School of Journalism, the Boston University School of Public Communication, and the University of California at San Diego.

Brodeur's nonfiction publications include Asbestos and Enzymes (1972), Expendable Americans (1973), The Zapping of America: Microwaves, Their Deadly Risk, and the Coverup (1977), The Asbestos Hazard (1980), Outrageous Misconduct: The Asbestos Industry on Trial (1985), and his most recent book, Currents of Death: Power Lines, Computer Terminals, and the Attempt to Cover Up Their Threat to Your Health (1989).

Mr. Brodeur's lecture is the seventh in the Athenaeum series called "Saving Our Environment." Please join us for the 5:30 reception, 6:00 dinner, and 7:00 p.m. lecture and discussion by returning the enclosed reservation coupon.