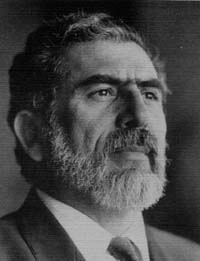 Ethics in Journalism
SERGIO MUNOZ
MONDAY, MARCH 11, 1991
The Athenaeum, the Salvatori Center, and the Philosophy Colloquium are pleased to present an address by Sergio Munoz as part of the continuing series, "Ethics in the 1990s."

Mr. Munoz, the executive editor of La Opinion, was born and raised in Mexico City. He was a philosophy major at the National Autonomous University of Mexico. Following graduation, Mr. Munoz studied at the London School of Film Technique and became a director in the film advertising business. Mr. Munoz has an MA from the University of Southern California and is a doctoral candidate there. This creative journalist has also taught, from kindergarten to college classes, both in Mexico and in the United States.

Since 1979 Sergio Munoz has been associated with La Opinion, an American newspaper written in Spanish and published in Los Angeles. The aim of this paper is to inform a community that in large measure has been ignored by the press, or has been seen as a problem community. La Opinion does not deny the dilemmas faced by Hispanics, but the paper aims to reflect the numerous dimensions of this diverse community.

In addition to his duties at La Opinion, Mr. Munoz is a commentator on a weekly television program and is a soccer coach.

Please join us for a timely address on the ethical role of the journalist. If you wish to attend the reception and dinner, please fill out the reservation form.