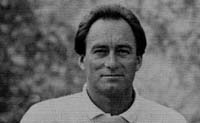 California Water Wars
MARC REISNER
WEDNESDAY, MARCH 13, 1991
The Marian Miner Cook Athenaeum is proud to welcome one of the foremost researchers on water resources in America's West. Marc Reisner is the author of Cadillac Desert: The American West and Its Disappearing Water (1986), which chronicles the history of the West's water, land, and the people who populated it. He is also coauthor, with Sarah Bates, of Overtapped Oasis: Reform or Revolution in Western Water Policy (1989).

Cadillac Desert was listed by Library Journal and Publisher's Weekly as one of the 12 best nonfiction books published in 1986. Mr. Reisner was nominated for the National Book Critics' Circle Award and Bay Area Book Reviewers' Award for his work; many national magazines and newspapers, such as The New York Times, Washington Post, and the Los Angeles Times, have featured articles by him.

Mr. Reisner received his BA in history and politics from Earlham College in Indiana. In his first year after graduation, he was a dairy and sweet corn farmer in Massachusetts. From 1973-1979, he served as the staff writer for the Natural Resources Defense Council and was special projects coordinator for the Council on Population and Environment in Washington in 1971 and 1972.

His current work-in-progress includes a profile of an undercover wildlife agent and a history of North American wildlife. If you would like to join Mr. Reisner to share his insights on the "California Water Wars", please fill out and return the enclosed coupon.