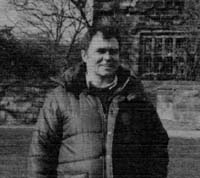 American Policy Towards the Soviet Union
PETER BOYLE
TUESDAY, SEPTEMBER 17, 1991
Our second speaker of the semester could not be more current. Peter Boyle, a leading scholar on American-Soviet relations, will give his incisive insights on the dynamic situation in the USSR and what it means for the United States.

Dr. Boyle was born and educated in Glasgow, Scotland. He received his Ph.D. in American studies from the University of California at Los Angeles. He is now professor of American studies at Nottingham University. This year he has the honor of being a visiting scholar at the prestigious Hoover Institute.

Dr. Boyle has edited the letters of both Winston Churchill and Dwight D. Eisenhower. Presently, he is completing a book on America-Soviet relations entitled American Soviet Relations from the Bolshevik Revolution to the Present. Current events are moving too fast to study in books, however; Dr. Boyle's appearance will give us an invaluable opportunity to learn about the history being created today.

Join us for Dr. Boyle's timely address, "American Policy Towards the Soviet Union." Please use the reservation form to sign up for dinner before the 7:00 talk. The question and answer period is sure to be lively and intense, so come prepared for an exciting evening.