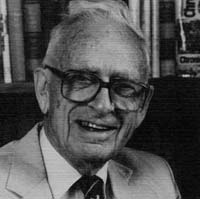 Aristotle and the Habit of Virtue
GEORGE C. S. BENSON P'61
WEDNESDAY, SEPTEMBER 18, 1991
The Family of Benjamin Z. Gould Center for Humanistic Studies is proud to announce that CMC's founding president, Dr. George C. S. Benson, will be the first participant in this year's continuation of the series "Public Figures and the Humanities." The program, begun last year, features public figures' personal testimonials on the influence that masterworks of Western literature have exerted upon their professional and private lives. Professor Benson will speak on the significance of Aristotle's Ethics (340 BC) in American life.

One of the preeminent educators of our time, Dr. Benson received his B.A. from Pomona College, his M.A, from the University of Illinois, and his Ph.D. from Harvard. After earning his doctorate, he worked in several capacities in education, consulting, and public service. Besides teaching political science at Harvard, the University of Michigan, and Northwestern, Dr. Benson served during World War II as U.S. Army Lieutenant Colonel in Italy, North Africa, and Austria. Upon returning to civilian life, he founded Claremont Men's College in 1946, and served as the college's president until 1969. Since returning to CMC from the State Department in the early '70s. Dr. Benson has been a leader in the reemergence of the study of ethics. He has authored, among other works, Amoral America (1975) (with Thomas S. Engeman), Political Corruption in America (1978), and Business Ethics in America (1982). Professor Benson continues to work closely with the Henry Salvatori Center for the Study of Individual Freedom in the Modern World and remains a revered yet highly personable presence in the Claremont community.

Dr. Benson's address begins at 7:00 p.m., following a reception at 5:30 and dinner at 6:00. To join us for this event, please fill out the enclosed reservation form and return it to the Athenaeum.