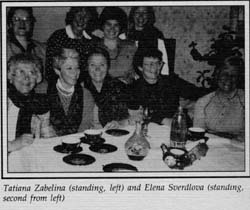 Women As Leaders in the USSR
ELENA SVERDLOVA
TATIANA ZABELINA
MONDAY, SEPTEMBER 23, 1991
Recent events have put the leadership of the Soviet Union into the international spotlight. Elena Sverdlova and Tatiana Zabelina will explore the role of women as political leaders in the USSR.

Originally from Moscow, Mrs. Sverdlova received her Ph.D. in biology from Moscow State University. She has been an assistant professor of biophysics there since 1965. From 1966 to 1969 she lived in Washington, D.C., while her husband was First Secretary of the Embassy of the USSR. Her grandfather was the first president of the Soviet Union.

Mrs. Zabelina graduated from Moscow State University with a Ph.D. in history. She teaches at the Institute of Latin America at the USSR Academy of Sciences, while doing post-graduate research at the Academy's Institute of the Labor Movement. In addition, she has taught for ten years at the Institute of the Youth (Komsomol). Mrs. Zabelina is also a member of the Soviet Women's Committee and the Women's Commission of the Soviet-American Society.

Come get their personal insight on the explosive changes that have dominated the headlines. Return the enclosed coupon and join us for dinner at 6:00 and speeches at 7:00.