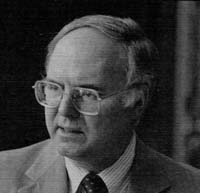 The End of American Exceptionalism?
MICHAEL NOVAK
TUESDAY. OCTOBER 15, 1991
As the spirit of freedom sweeps across Eastern Europe and the Soviet Union, democratic government seems about to become the rule rather than the exception among world governments. But if that is so, what is left of America's own exceptional mission to embody the democratic cause? What does America have left to contribute to the world?

These urgent questions will be addressed by Michael Novak, one of the nation's most distinguished social commentators, who is the first speaker in the Gould Center and Salvatori Center's series on "The Common Good: Unifying Elements in the American Experience."

Theologian, author, and former U.S. ambassador, Michael Novak holds the George Frederick Jewett Chair in Religion and Public Policy at the American Enterprise Institute in Washington, D.C., where he also serves as director of social and political studies. He has writter more than twenty influential books, including The Rise of the Unmeltable Ethnics (1972), The Joy of Sports: End Zones, Bases, Baskets, Balls, and the Consecration of the American Spirit (1976), The Spirit of Democratic Capitalism (1991), Freedom With Justice: Catholic Social Thought and Liberal Institutions (1984), and his latest work, This Hemisphere of Liberty: A Philosophy of the Americas (1990). In 1986, he headed part of the U.S delegation to the Conference on Security and Cooperation in Europe, a continuation of the Helsinki Accord negotiations.

His lecture is offered in conjunction with the Gould Center and Salvatori Center's seminar on "The Common Good," a course organized around the question of what makes America's diverse races, religions, and ethnic groups into one people.

Please join us for Michael Novak's talk at 7:00 p.m., and for the preceding reception at 5:30 and dinner at 6:00.