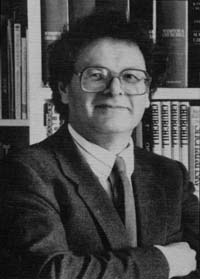 Churchill Reconsidered
MARTIN GILBERT
MONDAY, NOVEMBER 11, 1991 12:00 p.m.
The Henry Salvatori Center and the Marian Miner Cook Athenaeum, in conjunction with the Claremont Institute, are proud to present a luncheon talk by the official biographer of one of the twentieth century's greatest statesmen and men of letters, Sir Winston Churchill.

Three years ago, Martin Gilbert, one of Britain's most distinguished historians, completed the eighth and final volume of Churchill's official biography. Now, drawing on 25 years of research, Gilbert has written Churchill: A Life (1991), the first single-volume biography to be based on Churchill's personal, political, and secret archives. In his remarks at CMC, Gilbert will survey Churchill's storied career, explore his genius for statesmanship, and respond to recent criticisms of Churchill's wartime leadership.

Born in London in 1936, Gilbert was among several thousand British children evacuated to Canada during the Blitz. After returning home in 1944, he attended Highgate School, served in the British Army, and graduated with honors from Magdalen College, Oxford. He stayed on at Oxford as a senior research scholar for graduate work in Soviet and British imperial history, and in 1962 was elected a fellow of Merton College.

That same year he became research assistant to Randolph Churchill, Sir Winston's only son, then engaged in writing the first two volumes of the official biography. After Randolph's death in 1968, Gilbert began work on the six volumes that would complete the project. Among his other books are Auschwitz and the Allies (1982), The Roots of Appeasement (1966), a biography of Anatoly Scharansky, and twelve historical atlases.

Please join us for lunch at noon and Martin Gilbert's talk at 12:30 p.m.