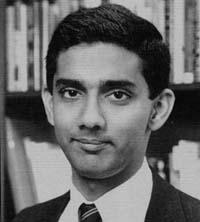 Illiberal Education: The Politics of Race and Sex on Campus
DINESH D'SOUZA
MONDAY, NOVEMBER 25, 1991
American colleges are once again the scene of angry controversy. This time the focus of these disputes is not foreign war or domestic partisanship but the politics of race and sex-in student recruitment and social life, and in faculty hiring and curriculum.

Few people have succeeded in ventilating these issues to the wider world so well as Dinesh D'Souza, the third and final speaker in the Gould and Salvatori centers' series on "The Common Good: Unifying Elements in the American Experience." D'Souza, a research fellow at the American Enterprise Institute and former White House domestic policy analyst, is the author of the controversial best-seller, Illiberal Education: The Politics of Race and Sex on Campus (1991). Now in its sixth printing, D'Souza's book argues that multiculturalism and preferential-treatment admissions policies produce not enlightened harmony but ignorance, intolerance, and racism on campus. And D'Souza warns that the rhetorical excesses and coercive tactics of the Politically Correct confront us with nothing less than a struggle for the soul of the American academy.

Dinesh D'Souza graduated Phi Beta Kappa from Dartmouth College in 1983, where he was editor of The Dartmouth Review. He has written for Harpers, The Atlantic, Vanity Fair, and The Wall Street Journal, and he is currently editor of Crisis magazine.

Please join us for Mr. D'Souza's lively talk at 7:00 p.m., preceded by a reception at 5:30 and dinner at 6:00.