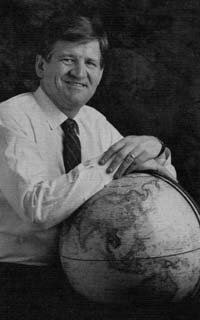 The New Soviet Union
ROBERT LEES
MONDAY, FEBRUARY 17, 1992
The Soviet Union is changing on a daily basis. Unfortunately, most of the news that we Americans have access to tells us very little of the "business side" of the Soviet Union. Robert Lees is a businessperson who can give us this insight. Mr. Lees is president of Pacific InterTrade Corporation, an international marketing and consulting company in Westlake Village, California, that works with U.S. manufacturers to develop projects and product distribution abroad. The company is involved in the Soviet Union, Japan, China, and Latin America.

Mr. Lees is a career internationalist and has conducted business in more than 30 countries. He has held management positions with the Corning Glass Company in New York, Latin America, Singapore, and Japan. Before founding Pacific InterTrade, he was vice president of marketing at Security Pacific Trading Corporation in Los Angeles. His international business experiences include acquisitions, joint ventures, marketing, and countertrade transactions.

Mr. Lees has a master's degree in international management from the American Graduate School of International Management (Thunderbird) and the Institute of International Studies and Training at Mount Fuji in Japan, and he is a summa cum laude graduate in international economics from the University of Cincinnati.

Mr. Lees frequently speaks at universities and before business groups on international business topics. His articles have been published in several leading magazines and newspapers, and he is often interviewed on radio and television regarding international trade.

Mr. Lees will join us at 5:30 for a reception, followed by dinner at 6:00. The speech will start at 7:00.