Athenaeum Location
Print Newsletter
December 31, 1969
Vol. 07, No. 08



March 9, 92

Vol. 07 , No. 08   
View Entire Issue (Vol. 07 , No. 08)
---
Family Ties
The Athenaeum would like to host a series of speakers next semester who have family ties to CMC students. For example: Is your father on the current team climbing Mt. Everest? Was your mother on the presidential AIDS commission? Is your uncle the economic minister of the Philippines? Was your sister enticed to join a cult? These are a few examples of ties about which we already know. Do you have a suggestion of your own? We want your input to make this series an exceptional one.
---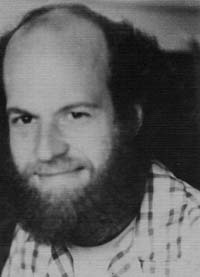 The Green Alternative: Creating an Ecological Future
BRIAN TOKAR
MONDAY, MARCH 9, 1992
The Green movement is an international grassroots organization which has been gathering momentum in the '90s with its focus on environmental issues and social responsibility. The Marian Miner Cook Athenaeum is proud to welcome Brian Tokar to better inform us on the Green alternative to traditional politics.

Mr. Tokar has been an activist for 18 years in the peace, anti-nuclear, and environmental movements. A graduate from MIT with degrees in biology and physics and a master's degree in biophysics from Harvard University, Mr. Tokar consults on technical and political aspects of environmental issues for several community based organizations throughout the country.

Mr. Tokar is perhaps best known as the author of The Green Alternative: Creating an Ecological Future (1987). (Copies will be available at the talk.) He is also a regular columnist for Z Magazine and has published in numerous other publications. He lectures extensively on Green politics and emerging ecological movements.

Please join us for this interesting talk and dinner with Mr. Tokar, who has left his organic vegetable farm in Vermont to be our guest. The reception will begin at 5:30, to be followed by dinner at 6:00 and the talk at 7:00.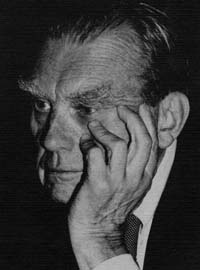 Poland: Then and Now
CZESLAW MILOSZ
TUESDAY, MARCH 10, 1992
With the fall of the Iron Curtain, the politics and economics of Eastern Europe have been at the forefront of American news coverage. Occasionally it is refreshing to look into the culture and history of the people who survived this turmoil. The voice of the Polish people and their culture can be heard in the writings of Czeslaw Milosz, the CMC history department's choice in our Academic Leaders series.

Professor Milosz was a leading avant-garde poet in Poland in the 1930s. During World War II he participated in the Resistance movement against the Nazis. After several years in the diplomatic service, he severed his ties with the post-war Polish government and came to America. He is professor emeritus of Slavic languages and literatures at the University of California, Berkeley.

Professor Milosz received the Nobel Prize for literature in 1980, the Neustadt International Prize for literature in 1978, and is a member of the American Academy and Institute of Arts and Letters. His books include Bells in Winter (1978), Selected Poems (1973), The Separate Notebooks (1986), Unattainable Earth (1986), The Collected Poems, 1931-1987 (1988), and The Seizure of Power (1987).

Join us for a chance to meet this distinguished poet of the history of his times. The reception begins at 5:30 and dinner follows at 6:00. Mr. Milosz's presentation will commence at 7:00.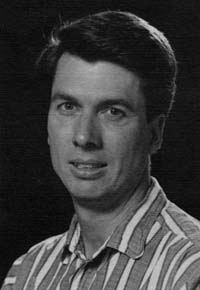 Should We Believe Child Witnesses?
LAWRENCE WHITE
WEDNESDAY, MARCH 11, 1992
During the last decade, hundreds of criminal cases involving child witnesses have come to the public's attention. Perhaps the best known of these is the McMartin Preschool trial in which the State of California unsuccessfully prosecuted seven teachers charged with the sexual molestation of numerous children. The Marian Miner Cook Athenaeum welcomes Lawrence White, chair of the psychology department of Beloit College, to address the issue of the reliability of children's eyewitness testimony.

Dr. White has conducted extensive research on child witnesses and has testified in many criminal cases about the vagaries of eyewitness identification. He addresses such questions as: Should we believe child witnesses? Do children have the ability to store and recall information as accurately as adults? Are children unduly suggestible and eager to please authority figures? Are children likely to change their stories over time?

Dr. White received his Ph.D. from the University of California at Santa Cruz in 1984 and joined Beloit's faculty that same year. He has held visiting professorships at the University of Portland and the California School of Professional Psychology. In addition to his reputation as an excellent teacher. Dr. White has published scholarly articles on a variety of subjects including child witnesses, death penalty trials, the insanity defense, and the polygraph.

Please join us for Dr. White's analysis of our criminal procedures. You can reserve a seat for dinner at 6:00 as well as the reception at 5:30 by returning the enclosed reservation form. The speech will begin at 7:00 and is open to everyone.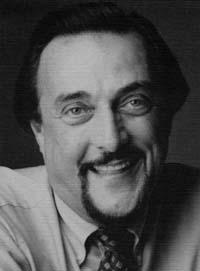 Taking Control of Your Time . . .Before It's Too Late
PHILIP ZIMBARDO
THURSDAY, MARCH 12, 1992
Have you heard of the Stanford Prison Experiment? Our guest speaker, Philip Zimbardo, created and ran what turned out to be one of the most famous experiments in the field of psychology. Students at Stanford volunteered for this experiment, which was to simulate a prison. Students either played guards or prisoners, selecting their roles by drawing lots. The experiment was to run for two weeks. However, the students portraying guards became so brutal to their prisoners that Dr. Zimbardo stopped the experiment after six days.

Dr. Zimbardo is presently a professor at Stanford University, but he grew up in New York. He graduated from Brooklyn College with honors and continued to Yale University where he completed a doctorate in psychology. After completing his formal education. Dr. Zimbardo wasted no time delving into research, training, and teaching. His career has taken him from Yale to New York University and finally to Stanford University, where he is director of the Stanford University Social Psychology Research Training Program.

Besides his teaching responsibilities at Stanford University, Dr. Zimbardo consults for cities, police departments, companies, states, and medical institutions. He has also appeared on all the major television networks as well as local stations across the nation. As a result of Dr. Zimbardo's diverse activities he has received many honors. The Distinguished Teaching Award for Outstanding Contributions to Education in Psychology, awarded by the American Psychological Foundation, and Best Psychology Teacher in California, awarded by California Magazine, are just two of eighteen honors listed on his resume.

Dr. Zimbardo is a dynamic, interesting, and informative speaker; he has been selected by the psychology department as part of the Athenaeum's Academic Leaders series. We are excited to invite you to his presentation titled "Taking Control of Your Time . . . Before It's Too Late." The dinner, which is limited to CMC persons and students enrolled in psychology courses at CMC, begins at 6:00. The speech, which is open to all, begins at 7:00 in McKenna Auditorium.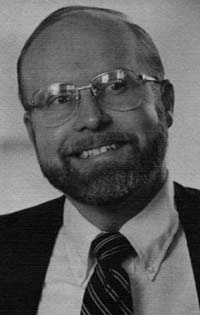 New Approaches to Environmental Policy
TOM TIETENBERG
MONDAY, MARCH 23, 1992
One of the most promising applications of economics today is how it can help solve the environmental question. As part of our Academic Leaders series, the economics department has brought us Tom Tietenberg, one of the top professionals in this burgeoning field.

Mr. Tietenberg is a professor of economics at Colby College. He was selected by the students as Best Professor at Colby and named 1990 Maine Professor of the Year by the Council for Advancement and Support of Education (CASE). He also served as president of the Association of Environmental and Resource Economists. He is the author of Environmental and Natural Resource Economics (1984), a best-selling text on this subject.

In addition to being an accomplished teacher and scholar, Professor Tietenberg applies economics to real-world problems. He has worked on the development of a new environmental policy for the oceans with a team from the former Soviet Union. He also presented a plan to the United Nations for reducing the threat of global warming.

In his programs he uses economic incentives to effectively and efficiently solve environmental problems. As he says, "Man and industries have created these problems, and man and industries can clean them up."

Please join us for this informative talk. To make reservations for the 5:30 reception and 6:00 dinner before the 7:00 talk, return the enclosed slip.
How I Came to Terms with Facts, Values, and David Hume
JAMES Q. WILSON
TUESDAY, MARCH 24, 1992
For our Academic Leaders series, we asked each department to select a prominent and pertinent speaker in its field. The government department's choice is perhaps the most renowned political scientist in America, James Q. Wilson, who is currently president of the American Political Science Association. Since 1985, Wilson has been the James Collins Professor of Management at UCLA. Before that he was the Shattuck Professor of Government at Harvard University for twenty-six years. He is the author or co-author of twelve books, including Bureaucracy: What Government Agencies Do and Why They Do It (1989), Thinking About Crime (1983), and Political Organizations (1973), as well as both hardcover and brief editions of American Government: Institutions and Policies (1981), the most widely used textbook in CMC's introductory American politics course.

Professor Wilson was chairman of the White House Task Force on Crime in 1966 and chairman of the National Advisory Commission on Drug Abuse Prevention in 1972-1973. He is currently chairman of the board of academic advisers of the American Enterprise Institute.

In 1990 he received the James Madison award for distinguished scholarship from the American Political Science Association. He is a member of the American Academy of Arts and Sciences and a fellow of the American Philosophical Society, and he has received honorary degrees from four universities.

Please join us for Mr. Wilson's talk, which is subtitled "How I Came to Terms With Facts, Values, and David Hume." Values are a prevalent topic in politics today, giving a contemporary application to this classic question. As always, return the enclosed slip to join us for the 5:30 reception and 6:00 dinner before the 7:00 presentation.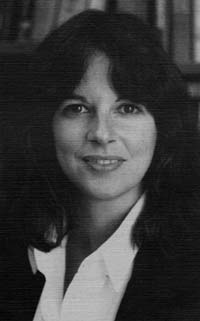 Travels Along the DNA Helix
JACQUELINE BARTON
WEDNESDAY, MARCH 25, 1992
Have you heard of transitional metal complexes? (Neither had I.) In layman's terms, they are common metals, such as iron and cobalt, which in their ionic state often attach to other atoms and groups, forming transitional metal complexes. It turns out that these complexes are enormous in variety and can be used as probes to explore DNA and RNA structure. This offers us new information about genes and possibly cancer and is of central focus to Dr. Jacqueline Barton.

Dr. Barton is a professor of chemistry at the California Institute of Technology. She was awarded the Bachelor of Arts degree summa cum laude at Barnard College in 1974 and went on to receive a Ph.D. in inorganic chemistry at Columbia University in 1979. Thereafter, as a National Institutes of Health postdoctoral fellow, she studied biophysics at Bell Laboratories and Yale University in the laboratory of R.G. Shulman. Dr. Barton then became an assistant professor of chemistry at Hunter College, City University of New York. In 1983, she returned to Columbia University, becoming an associate professor of chemistry and biological sciences in 1985 and a full professor in 1986. In the fall of 1989, she assumed her present position at Caltech.

Because of Dr. Barton's outstanding scholarly endeavors, she has received many awards. This year she was elected a member of the American Academy of Arts and Sciences, named a MacArthur Foundation Fellow, and received the Baekeland Medal of the ACS North Jersey Section. She has also been named the 1992 recipient of the American Chemical Society's Garvan Medal. The Joint Science Department has selected Dr. Barton as a participant in the Athenaeum's Academic Leaders series.

Dr. Barton's speech is titled "Travels Along the DNA Helix." Please sign up for the dinner at 6:00 or, if you're too busy, come to the speech at 7:00.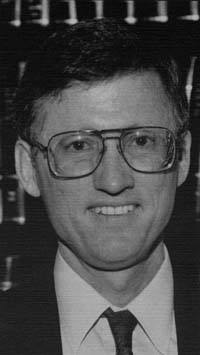 Keeping Charles Manson Behind Bars
STEPHEN KAY '64
THURSDAY, MARCH 26, 1992
Imagine being fresh out of law school and finding yourself in a courtroom opposite Charles Manson. That was the experience of CMC alum Stephen Kay. Twenty years after helping Vincent Bugliosi convict Manson and his family of psycho-killers, Kay is still working to keep the murderers behind bars.

Originally, Mr. Kay was only an assistant on the case, but now the Tate-LaBianca murders are his full responsibility. In an article appearing in the Los Angeles Times magazine, Mr. Kay's commitment to keeping the Manson family behind bars was described: "His role, largely self-appointed and not without criticism, has been to demand continuing punishment for those gunshots in the canyon, for the pagan smearing of PIGS and the illiterate HELTER SKELTER on the walls of the wealthy in their own blood." This crime haunted the country for years, essentially bringing an end to the '60s for Los Angeles; it was everyone's worst nightmare.

Mr. Kay graduated eighth in his class from CMC and continued on to Boalt Hall, UC Berkeley's law school. In addition to the Manson case, he has worked to prosecute many mass murderers. He dedicates his life to putting criminals behind bars and keeping them there; it is work that makes many Americans proud of him.

Please join us for a look back at the past through the eyes of the man that keeps the nightmare out of the present. Dinner will begin at 6:00 followed by Mr. Kay's presentation at 7:00. And don't miss the reception at 5:30.
Musical Tea
ELLIS MARSALIS
MARCUS ROBERTS
FRIDAY, MARCH 27, 1992 3:00 p.m.
Ellis Marsalis and Marcus Roberts, two extraordinary master jazz pianists, will offer an hour's lecture demonstration on jazz improvisation at the Athenaeum as a prelude to their concert that same evening in Bridges Auditorium.

Marcus Roberts, cited in the feature story of Time magazine as one of the major players of "the new age of jazz," first earned the attention of the jazz world when he joined forces with trumpeter Wynton Marsalis in 1985 and has since emerged as a leader in his own right. His three solo recordings for RCA/Novus have been at the top of Billboard's Jazz Chart.

Pianist Ellis Marsalis, father of Wynton and patriarch of New Orleans jazz, is an improvisational genius. He is the director of jazz studies at the New Orleans Center for Creative Arts and the University of New Orleans and has nurtured an entire generation of brilliant, young jazz plavers.

The duo of Marsalis and Roberts has performed to sold-out audiences at Kennedy Center and Lincoln Center, and all you jazz lovers have a rare chance to get "close up" to these two wonderful musicians as they share insights into their sparkling and rhapsodic music making.

Come to the Security Pacific room in the Athenaeum at 3:00 p.m. for the "usual" tea and sweet treats plus the unique presence of these two world-class musicians.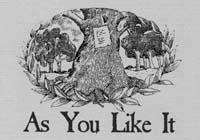 As You Like It
The all-CMC directed and acted dinner theater will be featured in our next Fortnightly. The dates of the dinner theater are Thursday, April 2, Friday, April 3, and Saturday, April 4.

The play will be a contemporary-dress version of William Shakespeare's As You Like It (1598), and the dinner will be delicious. The price is right, beginning at $5.00 for CMC students with meal cards.

Save the date for another artistic achievement at the Athenaeum.
Family Ties
The Athenaeum would like to host a series of speakers next semester who have family ties to CMC students. For example: Is your father on the current team climbing Mt. Everest? Was your mother on the presidential AIDS commission? Is your uncle the economic minister of the Philippines? Was your sister enticed to join a cult? These are a few examples of ties about which we already know. Do you have a suggestion of your own? We want your input to make this series an exceptional one.
Roaring 20's Party
PERFORMERS NEEDED
The Roaring Twenties are coming to the Athenaeum! On Thursday, April 16, all are welcome to enjoy fine food, great jazz, and a chance to dance the Charleston and Foxtrot 'til the wee hours. In our attempt to create an authentic Twenties' club atmosphere, we are looking for singers and musicians to provide entertainment. If you are interested, please leave your name at the Athenaeum as soon as possible. Voice, piano, saxophone, trumpet, trombone-all are welcome! We'd be happy to help in choosing pieces that reflect the era. This is a great opportunity to perform in a relaxed and refined setting! Report to the Athenaeum today!