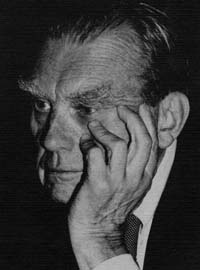 Poland: Then and Now
CZESLAW MILOSZ
TUESDAY, MARCH 10, 1992
With the fall of the Iron Curtain, the politics and economics of Eastern Europe have been at the forefront of American news coverage. Occasionally it is refreshing to look into the culture and history of the people who survived this turmoil. The voice of the Polish people and their culture can be heard in the writings of Czeslaw Milosz, the CMC history department's choice in our Academic Leaders series.

Professor Milosz was a leading avant-garde poet in Poland in the 1930s. During World War II he participated in the Resistance movement against the Nazis. After several years in the diplomatic service, he severed his ties with the post-war Polish government and came to America. He is professor emeritus of Slavic languages and literatures at the University of California, Berkeley.

Professor Milosz received the Nobel Prize for literature in 1980, the Neustadt International Prize for literature in 1978, and is a member of the American Academy and Institute of Arts and Letters. His books include Bells in Winter (1978), Selected Poems (1973), The Separate Notebooks (1986), Unattainable Earth (1986), The Collected Poems, 1931-1987 (1988), and The Seizure of Power (1987).

Join us for a chance to meet this distinguished poet of the history of his times. The reception begins at 5:30 and dinner follows at 6:00. Mr. Milosz's presentation will commence at 7:00.