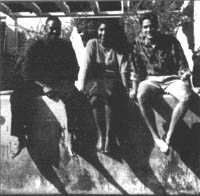 A Message From The Fellows
USHA KOTELAWA '93
MORGAN WANDELL '93
ROY WILLIAMS '93
Welcome back to the Athenaeum. We are excited about, the wide range of programs the Athenaeum will offer this year. Our first semester series address important and timely issues-the election, the riots of last spring, the growing reality of globalization, dating in the nineties, the Asian American spirit, and moral virtue.

Student involvement is critical to the success of the Athenaeum. The facility exists for students and, therefore, should offer programs that interest them. We need your input, so if you have any good ideas for speakers, programs, or anything else, contact Usha, Roy, or Morgan. Also, if you want to sit at the head table, call Roy at extension 5449.

So sign up for the dinners, and we promise you good food (great desserts), good company, and interesting speakers. Or simply stop by the Athenaeum at 6:45 p.m. for the program and you won't need to make a reservation.