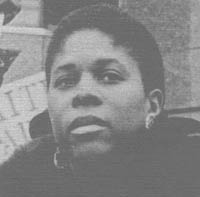 The Making of a Fringe Candidate
LENORA FULANI
WEDNESDAY, FEBRUARY 10, 1993
For Dr. Lenora Fulani, "politics is a continuation of the '60s fight for empowerment." Dr. Fulani, chairperson of the New Alliance Party, completed her second bid for the presidency in the 1992 election after becoming the first African-American woman to be on the ballot in every state in 1988. Described as a "fringe candidate," Fulani knew she would not. win, but more important to her was continuing a fight for "independent politics." Her sentiments of the current system are clear: "The two-party system is the most corrupt, undemocratic system in the world. It is ordinary people who should be running this country." By the year 2000 she expects that the New Alliance Party will be a major, competitive left-of-center party.

Dr. Fulani received her Ph.D. in developmental psychology from City University of New York and has taught at several universities including The State University of New York and the College of New Rochelle. She is also the former director of Community Clinics of the Institute for Social Therapy and Research. She has appeared as keynote speaker at Columbia University and Harvard Law School among other universities, and she has frequently appeared on radio and television including "The MacNeil/Lehrer News Hour," "Crossfire," "The Larry King Show," and National Public Radio. She authored Poor Women of Color Do Great Therapy (1988), co-authored Independent Black Leadership in America (1989), and is the editor of The Psychopathology of Everyday Racism and Sexism (1988).

We hope you'll join us for what should be a provocative presentation on "The Making of a Fringe Candidate."