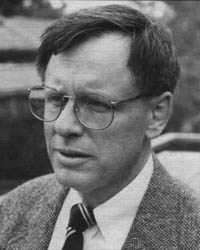 Different Voices: Women and the Holocaust
JOHN ROTH
TUESDAY, MARCH 9, 1993 12:15 p.m.
Athenaeum is proud to continue its faculty lunch series with a discussion by Professor John K. Roth. Neither before, during, not after the Holocaust have women been silent about the experiences that left them forever marked by the "Final Solution." Drawing on survivors such as Charlotte Delbo and Isabella Leitner, scholars such as Claudia Koonz and Joan Ringelheim, and reflective writers such as Ida Fink and Gitta Sereny, Different Voices: Women and the Holocaust (1993) intensifies an awareness of the depths of the Holocaust's tragedy and encourages a determination to prevent such destruction in the future.

Professor Roth graduated from Pomona College, where he first decided to become a teacher. He earned his doctorate in philosophy at Yale University and has been teaching at Claremont McKenna College ever since. He was selected as the 1988 Professor of the Year for the United States and Canada by the Council for Advancement and Support of Education and the Carnegie Foundation for the Advancement of Teaching. He has written more than 15 books and dozens of articles.

Lunch is served at 11:45 a.m. Professor Roth will speak at 12:15.