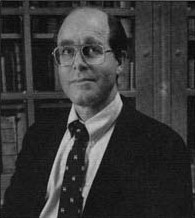 Who Was Shakespeare?
WARD ELLIOTT
TUESDAY, MARCH 23, 1993 12:15 p.m.
For more than a century, writers like Freud, Whitman, and Twain have doubted that William Shakspeare of Stratford could have written the poems and plays of William Shakespeare. Shakespeare's works are the work of a learned person, someone who knew law, history, Latin, Greek, and French, and had a vocabulary twice the size of Milton's. Shakspeare (who never spelled his name Shakespeare) seems provincial, obscure, and barely literate. Apparently, neither his parents nor children could write. He left no manuscripts, no literary records, no letters, only a will leaving his second-best bed to his wife.

CMC professor of government Ward Elliott, along with CMC math professor Robert Valenza, formed the Shakespeare Clinic to study who might have been the "true authors" of Shakespeare's work. With the use of computers, they compared Shakespeare's poems to the works of 58 other literary figures from the period, such as Francis Bacon, Christopher Marlowe, and Queen Elizabeth I. After comparing such things as often-used words, punctuation, and spelling in scores of texts, most of the 58 possible authors have been eliminated.

Professor Elliott received his A.B., M.A., and Ph.D. from Harvard University and an LL.B. from the University of Virginia, At CMC, he teaches the constitutional law and politics section of the Philosophy, Politics, and Economics major.

Lunch is served at 11:45; Professor Elliott speaks at 12:15.