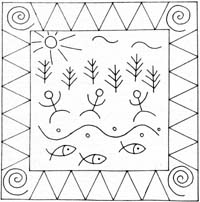 EARTH DAY SYMPOSIUM
WARD ELLIOT
DAN GUTHRIE P'83
ROBERT FELDMETH
ROBERT PINNELL
THURSDAY, APRIL 22, 1993 12:15 p.m.
Earth Day was created by Denis Hayes in 1973 to increase awareness of global environmental problems. In recognition of the 20th anniversary of this historic event, ASCMC would like to invite you to join local experts in a discussion of urgent problems facing us today.

Four professors will give brief introductions and then break into smaller groups according to interests. Ward Elliott, professor of government, will lead a discussion on overpopulation. Keck science professors Dan Guthrie, Robert Feidmeth, and Robert Pinnell will direct discussions on endangered species, water pollution, and ozone depletion, respectively.

Don't miss this opportunity to be an active part of one of the Earth Week events here at CMC. Share your knowledge and opinions on these topics with other concerned students. Perhaps through stimulating discussions we can find a way to work through these pressing environmental problems - before it's too late.

Lunch is served at 11:45 a.m. The discussion begins at 12:15 p.m.