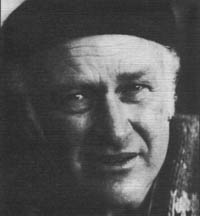 The Legacy of Wallace Stegner
KEN KESEY
TUESDAY, SEPTEMBER 14, 1993
In 1960 Ken Kesey arrived at Stanford as a student in Wallace Stegner's writing class. He had been a theater arts major at the University of Oregon and a state wrestling champion before receiving a Woodrow Wilson Fellowship to study writing at Stanford. While at Stanford he wrote a novel that has become an American masterpiece, One Flew Over the Cuckoo's Nest (1962). Kesey worked with Wallace Stegner, Malcolm Cowley, and Frank O'Connor. Stegner and Kesey had a powerful and tempestuous relationship. Kesey's classmates included Larry McMurtry and Robert Stone, who also went on to become major American novelists.

By 1964 Kesey had published his second novel, Sometimes A Great Notion, regarded by many as his best work. He was 26. Within the year, Kesey and a group of his friends from Stanford and Oregon known as "The Merry Pranksters" transformed a schoolbus from yellow to day-glow rainbow, dubbed it "Furthur," and headed on a tour around the United States. The controversial, psychedelic quest for expanded consciousness became the subject of Tom Wolfe's bestseller The Electric Cool Aid Acid Test (1987).

Kesey retreated to his farm in Oregon in the 1970s where he wrote another novel, Demon Box (1987), and a collection of essays about the bus tour, Ken Kesey's Garage Sale (1973). Recently, Kesey has returned to the novel with Sailor Song (1992) and a work soon to be published about the legendary Pendleton Rodeo, co-authored with fellow prankster Ken Babbs.

In 1992 Ken Kesey was the CMC commencement speaker. Kesey returns to CMC to reflect on his experiences as a student writer. And this time he's bringing The Bus. Kesey and his pranksters have taken their new play, Twister (1994), on the road. Kesey calls it "an apocalyptic ritual reality in four acts," which draws on legends of the Wizard of Oz, Frankenstein, and Elvis Presley. It will be performed at the Grove Theater in Upland on Wednesday, September 15 at 8:00 p.m.

Mr. Kesey's presentation will be held in McKenna Auditorium and is open to all without charge. Due to the popularity of this event, the dinner at the Athenaeum before the program is open to CMC persons only.