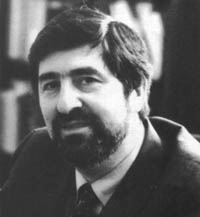 Undivided Government? Clinton's First Year With Congress
MICHAEL MALBIN
THURSDAY, JANUARY 27, 1994
Has the Clinton administration brought real "change" to American national politics, or is the country merely spinning its wheels? Does having a president and Congress both controlled by the Democratic Party make a difference these days? To address these pressing questions and to survey leading developments in American politics over the past year, the Salvatori Center is pleased to present an evening with Michael J. Malbin, one of the country's foremost scholars of the modern Congress.

Michael J. Malbin is a professor of political science at the State University of New York at Albany and director of the Center for Legislative Studies at SUNY's Rockefeller Institute of Government. Since August 1991 he has also been a member of the National Council on the Humanities, the 26-member advisory board for the National Endowment of the Humanities.

Malbin is the author of numerous books on Congress, political parties, and the presidency, including Unelected Representatives: Congresional Staff and the Future of Representational Government (1980), a key study of the growing power of Congressional staffs. His latest edited volumes are the 8th edition of Vital Statistics on Congress, 1993-94 (1994) and Limiting Legislative Terms (1992), coedited with Gerald Benjamin.

Before moving to Albany in 1990, Malbin held appointments in both the legislative and executive branches of the federal government. He worked for the Iran-Contra committee, the House Republican Conference, and as speech writer for President Bush's Secretary of Defense, Dick Cheney.

You are welcome to this lecture and discussion presented by the Salvatori Center and the Marian Miner Cook Athenaeum.