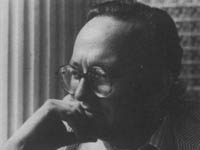 Poetry Reading
DEREK MAHON
MONDAY, MARCH 7, 1994
Awaiting still our metamorphosis,
We hoard the fragments of what we once knew,
It is not sleep itself but dreams we miss.
We yearn for that reality in this.

-Derek Mahon,
The Dawn Chorus

Regarded as one of contemporary Ireland's greatest poets, Derek Mahon's narrative playfulness and energy and decisive technical virtuosity have earned him a worldwide reputation. Born in Belfast in 1941, Mahon was educated at Trinity College, Dublin, where he majored in French, and at the Sorbonne. He began writing verse early. In 1965 he won the prestigious Gregory Award for poetry and his first collection of poems was published in 1966. His books include Night Crossing (1968), Lives (1972), The Snow Party (1975), The Hunt by Night (1983), and Antarctica (1985). His Selected Poems was published by Viking last year. He has served as drama critic for the Listener, and is a regular contributor for the Observer, New Statesman, and the Times Literary Supplement.

A noted translator, Mahon was awarded the C. Scott-Moncrieff Prize for his renderings of the poems of Philippe Jaccottet. He has also translated works of Moliere, Euripedes, and Nerval. He has written television adaptations of novels by Irish writers Jennifer Johnston and Brian Moore as well as a dramatization of Ivan Turgenev's First Love. Mahon has taught at Trinity College, New University, and Wake Forest University.