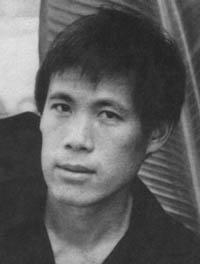 The Country of Dreams and Dust
RUSSELL LEONG
TUESDAY, MARCH 29, 1994
In my poetry, through juxtaposition, I try to show the contradictions in people's lives. I try to break certain colonized patterns of thought, assumptions, which we all have.

-Russell Leong

Russell Leong's poems capture, in striking imagery, the Asian American experience. Indeed, his poems tend toward the personal and historical narrative with a decidedly political edge.

Russell Leong attended San Francisco State College, where he became active in Chinese for Social Action. He also was a member of the Kearny Street Asian-American Writers Workshop, an organization that has spawned many well-known Asian American writers, poets, and filmmakers. Leong went on to obtain his M.F.A. in filmmaking from UCLA, where he became editor of UCLA's Amerasia Journal, a position he still holds today.

Leong's fiction and verse can be found in: Aiiieeeee! An Anthology of Asian American Writers (1991); The New England Review (1991); The Buddhist Review (1991); Charlie Chan is Dead: An Anthology of Contemporary Asian American Fiction (1993); and Positions: East Asia Cultures Critique (1992). In addition, his collection of poetry, The Country of Dreams and Dust (1993), has received much acclaim.