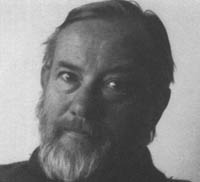 The Legacy of Wallace Stegner
ROBERT STONE
TUESDAY, APRIL 5, 1994
0ne commentator has described the novels of Robert Stone as "A powerful vision but not a pretty one."

"Stone's characters, their lives frequently reduced to a desperate and elemental level, are driven to cope with basic questions of existence," wrote James Finn in Commonweal last November.

Believed by many to be one of America's five or six best living novelists, Stone studied under Wallace Stegner at Stanford in the early 1960s, along with Ken Kesey, John McPhee, and Larry McMurtry. He subsequently became one of the Merry Pranksters who traveled around the country in a bus with Kesey.

His most recent novel, Outerbridge Reach (1992), was greeted with praise by English-language newspapers and magazines around the world. Stone was described as one of the reigning masters of English prose.

"His language is a gift and an attainment," wrote one critic, the glory and strength of his novels. It charges the story, propelling the reader into the most violent action even as it invites reflection on that action. It can draw on sensual imagery and evoke the most delicate or the most sinister atmosphere."

A Hall of Mirrors (1967), Stone's first novel, painted a dark picture of political paranoia and conspiracy in New Orleans. His second novel, Dog Soldiers (1973), brought readers a chilling view of the American drug culture of the early 1970s and the Vietnam War.

In A Flag for Sunrise (1977) Stone delivered an apocalyptic vision of Central America during a period of violent disorder. Children of Light (1985), his fourth novel, was Stone's devastating portrait of Hollywood, and Outerbridge Reach (1992) is a study of how a few characters attempt to salvage their lives in a world that rewards images but ignores reality.

"In a sense, I am a theologian," Stone has said. "And as far as I know the only one [writing novels today]."

Join us for the finale of our Wallace Stegner Retrospective.