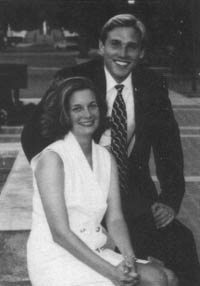 Welcome!
NICOLE HUIJER '95
KEVIN CRAVEN '95
ATHENAEUM FELLOWS
Welcome back. This summer, while Kevin searched for the best fishing hole in the Northwest and Nicole searched for the perfect wine to go with her "Mac'n'cheese," the staff of the Athenaeum began preparing for a fantastic array of events during the month of September.

The Rice Krispies Treats will make their first appearance at Ath Tea on September 19. The Earl Grey flows in Parents Library, Monday through Friday from 3:00 to 4:30.

Our weekly Open Forum Lunch with professors will begin Wednesday, September 21. You can sign up ahead of time if you bring a professor. Seating begins at 12:00 noon.

Chefs David and Sid flexed their spatulas during the summer in preparation for what will be a fantastic gastronomic year. Show them your appreciation by remembering the Athenaeum's long-standing, evening dress code. Please no jeans, T-shirts, or shorts the tiramisu alone is well worth the effort.

We look forward to seeing you. If you have any questions or topical interests for upcoming speakers, please give us a call. Seating at the head table is for CMC students only. For this opportunity to converse with the guest speaker over dinner, please make arrangements with the Fellows in the Athenaeum office.