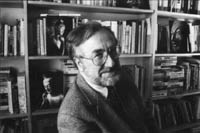 Japan and America: Thinking About the Bomb
JOHN DOWER
MONDAY, FEBRUARY 20, 1995
Fifty years after World War II, John Dower is making history of his own with his accounts of modern Japanese history and U.S.-Japan relations. His book, War Without Mercy: Race and Power in the Pacific War (1987), was a trailblazing comparative study of the racial and psychological aspects of World War II from both American and Japanese perspectives. For his work Dower was awarded the National Book Critics Circle Award for non-fiction. In addition, he was honored in Japan with the Masayoshi Ohira Memorial Prize for distinguished scholarship on Asia and the Pacific.

John Dower is currently the Henry R. Luce Professor of International Cooperation at the Massachusetts Institute of Technology. He received his B.A. in American studies from Amherst College and his Ph.D. in history and far eastern languages from Harvard University. Politics, history, and art are among the inspirations for his books and documentary films, which include Empire and Aftermath: Yoshida Shigeru and the Japanese Experience (1989), Hellfire: A Journey from Hiroshima (1986), and Japan in War and Peace (1995).

John Dower's presentation is an installment of the Athenaeum series "Reflections on World War II." This opportunity to discuss international relations, history, politics, and society with one of America's most celebrated historians should not be missed.