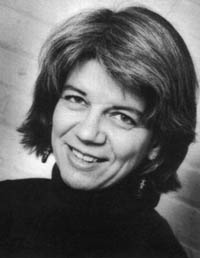 For Generation X, The Dead End is the Music
MARTHA BAYLES
WEDNESDAY, MARCH 8, 1995
In her book The Hole In Our Soul: The Loss of Beauty and Meaning in American Popular Music (1994), Martha Bayles challenges current forms of music with the depth of creation found in blues, jazz, gospel, and country. Following the history of popular music from its African-American roots through the rise of rock'n'roll to the modern-day excesses of the MTV era, Bayles questions the worth of what Generation X is listening to. Whereas people once tapped their feet and smiled when they listened to American popular music, Bayles finds audiences crippled by heavy metal virtuosos who treat music as a form of warfare; by pop singers who reduce love to softcore pornography; by grunge rockers who squall cheap despair while smashing their guitars; and by gangsta rappers who sell more records when under indictment for assault, rape, or murder than when they are merely posing as violent criminals.

Bayles is a native of Boston and a graduate of Harvard University. She has taught writing at Harvard and at public schools in Boston and Philadelphia. For six years she was a television and art critic for The Wall Street Journal. Her essays and fiction have appeared in the Atlantic Monthly, Harper's, the Brookings Review, the New Criterion, and many other publications. At present Bayles is a producer at New River Media in Washington, D.C.

Join the Athenaeum for what will be a provocative discussion of modern music-its technology, cultural influences, and merits.