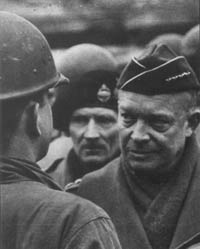 General Dwight D. Eisenhower in World War II
DAVID EISENHOWER
TUESDAY, APRIL 18, 1995
David Eisenhower's Eisenhower At War, 1943-1945 (1987), a national bestseller and the sole finalist for the 1986 Pulitzer Prize in history, reflects on the presidency of his grandfather and the tumultuous times that characterized his epoch. Even now, 50 years removed from World War II, Dwight D. Eisenhower remains one of the strongest and most-identifiable icons of the 20th century-his name alone conjures distinct and moving images the likes of which no other public figures can match.

Over the years, David Eisenhower has authored reviews and articles for national publications and books, as well as a column for the Philadelphia Bulletin. The awards and appointments he has earned as a historian and political analyst are testimony to a lifework well sculpted. He has lectured at the University of Pennsylvania on the topics of U.S. foreign policy and postwar Europe, and he has devoted much of his nonwriting time to public speaking on World War II and the American presidency.

After graduating from Amherst College and serving as a naval officer aboard the USS Albany, David Eisenhower earned a law degree from George Washington University. He sits on numerous boards, including those of Gettysburg College, the Pennsylvania Humanities Council, Freedom House, and the Center for the Study of the Presidency. In 1991, in recognition of Eisenhower At War, 1943-1945, he was named a Society of American Historians fellow.

This special presentation is part of the CMC Res Publica series, which recognizes outstanding contributions to public affairs.