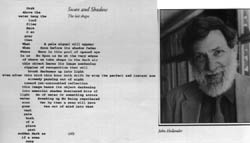 A Poet Reads from His Work
JOHN HOLLANDER
WEDNESDAY, APRIL 19, 1995
In the nearly four decades since John Hollander's first book of poetry, A Crackling of Thorns, was selected by W. H. Auden for publication in the Yale Series of Younger Poets (1958), he has steadily beguiled readers with the variety, polish, and wit of his poems. Hollander explores a broad range of emotional territory with a formal grace and technical control that are rare in modern poetry. Love, loss, art, music, friendship, the fleeting nature of life-Hollander takes us into all of these areas without ever allowing deeply personal observation to slip into selfindulgence. It is, in fact, Hollander's very control that enhances and channels his poetry's emotional expressiveness.

"An unexcelled virtuoso of the verbal keyboard," as Marie Boroff has called him, Hollander is often praised for the musicality of his work, which is also informed by his own interest in music. But the visual arts also lie at the heart of many a Hollander poem. A modern practitioner of the ancient mode of ekphrasis, Hollander has produced poems on art works by, among others, Velazquez, Monet, Edward Hopper, and his own wife, the sculptor Natalie Charkow. In 1969 Hollander demonstrated at once his originality and traditionalism by accomplishing a feat that, according to the editors of The Norton Anthology of Modern Poetry, "no other contemporary could or would attempt." In his book, Types of Shape (1969), Hollander adapted the tradition of emblem poetry to a modern idiom. Each poem in this book, like "Swan and Shadow" shown here, is written in the physical shape of the thing it describes, blending visual and verbal elements into a unified whole.

A distinguished scholar as well as a poet, Hollander is A. Bartlett Giamatti Professor of English at Yale. In addition to his many volumes of poetry, he is the author of four books of literary criticism, including the often reprinted Rhyme's Reason: A Guide to English Verse (1981). His numerous awards include a MacArthur Foundation Fellowship, a Guggenheim Fellowship, and the Bollingen Prize for Poetry. His Selected Poetry was published by Knopf in 1993.

John Hollander's appearance at the Athenaeum is sponsored by the Benjamin Z. Gould Center for Humanistic Studies.