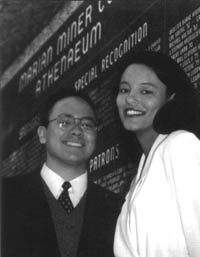 Welcome! Bienvenidos! Bienvenue! Wilkommen! Howdy!
DANIELLE ARCENEAUX '96
LEONARDO ARRIOLA '96
ATHENAEUM FELLOWS
The Marian Miner Cook Athenaeum welcomes you for the 1995-1996 season of engaging lectures and tantalizing culinary delights. By offering some good conversation spiced with a touch of controversy, we hope that you will become an active participant in the Athenaeum's programs. The list of speakers for this semester (see insert) includes a wide range of interests, issues, and disciplines
.
An evening at the Athenaeum not only allows you to socialize with faculty and students from the entire Claremont community, but also gives you a unique opportunity to converse with our featured guests. Where else can you speak to, and dine with, a Nobel Prize winner, a distinguished diplomat, or a poet laureate?

With this in mind, we ask that you help us to maintain the Athenaeum's traditional dress code. Moreover, we would like to remind you that reservations are required for dinner, but the presentation is open to everyone. If you are not able to keep your reservation, please cancel so that students on the waiting list have a chance to attend.

We look forward to seeing you, and we encourage you to use the Athenaeum receptions to meet some of the foremost thinkers of our day. If you would like to sit at the head table with the speaker, please contact the Athenaeum Fellows. Welcome back and feel free to call us if you have any questions or suggestions.