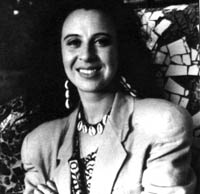 The U.S. Mambo: One Step Forward, Two Steps Back
MARIA HINOJOSA
WEDNESDAY, OCTOBER 18, 1995,
"If I don't touch people with my reporting, then I'm not doing my job," says Maria Hinojosa, an award-winning journalist and news correspondent for National Public Radio (NPR). As a reporter intimately familiar with the issues that affect women and Latinos, she maintains an outspoken position on multiculturalism and the minority empowerment.

Focused on urban and inner-city issues, Hinojosa's investigative reporting is dedicated to exposing the stories that are often overlooked by the media. Her most acclaimed work is a list of unconventional, yet critically important topics that range from women and AIDS in Puerto Rico to a story entitled "Kids and Guns," which received the New York Society of Professional Journalists award. In a Los Angeles Times interview, she explained: "I want to do the stories no one else is doing, and I think those stories come from just talking and listening to different kinds of people, and hearing what is important to them."

Hinojosa's report on New York's crews-bands of youth that do not consider themselves as gangs, but have the same violent tendencies-has been recently published as a book. In Crews: Gang Members Talk to Maria Hinojosa (1995), she details the lives of young men and women who turn to these groups for the support they lack from their families.

A magna cum laude alumna of Barnard College, Hinojosa is a provocative journalist who is both innovative and prolific. Apart from hosting NPR's Latino USA, a journal of news and culture, she anchors WNBC-TV's public affairs show Visiones. Hinojosa is also a contributor to Public Television's Informed Sources and a frequent guest of CNN and Company.