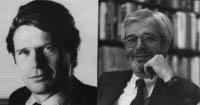 American Policy in Review: A Debate on Immigration
PETER BRIMELOW
SANFORD UNGAR
TUESDAY, OCTOBER 24, 1995
The national debate on immigration persists as one of the most salient issues in American society. As one of the most complex and confounding areas of American policy, immigration incites a number of questions of domestic and international consequence. Are immigrants a net drain on the U.S. economy? Does immigration enhance American culture and society? How should immigration policy be reformed? These are the very questions that Peter Brimelow and Sanford J. Ungar will engage as they bring this discussion to the floor of the Athenaeum.

Both Brimelow and Ungar have recently published books dealing with immigration and its significance for the United States. However, these authors maintain starkly antithetical views. Brimelow claims that the United States cannot assimilate the current wave of immigration and that multiculturalism risks dividing the American nation. He supports policy reforms that increase the border patrol, discontinue family reunification, and end automatic citizenship at birth. In contrast, Ungar argues that immigrants not only enrich the American experience, but play a critical role in renewing the national culture. Although some ethnic groups maintain their identities, they all contribute to American society.

Peter Brimelow is the author of Alien Nation: Common Sense about America 's Immigration Disaster (1995). A naturalized American citizen of British origin, Brimelow is currently a senior editor of Forbes and National Review. He has worked for Fortune and Barron's as well as for MacLean's and the Financial Post in Canada. A columnist for the London Times, his writings have also appeared in The Wall Street Journal, Harper's, and The New York Times. The Salvatori Center for the Study of Individual Freedom in the Modern World is sponsoring Brimelow's visit.

Sanford J. Ungar's work is entitled Fresh Blood: The New American Immigrants (1995). A journalist for more than two decades, Ungar is now the dean of the School of Communication at American University in Washington, D.C. He is a former editor of The Atlantic as well as a past managing editor with Foreign Policy magazine. In broadcasting he has hosted All Things Considered on National Public Radio and The CBS News Night Watch. His other books include the bestseller Africa: The People and Politics of an Emerging Continent (1985), Estrangement: America and the World (1985), and FBI: An Uncensored Look Behind the Walls (1976).

The Athenaeum encourages students to attend and participate in what is sure to be an animated debate on an issue of vital importance. Dinner reservations are for CMC only. The 6:45 p.m. presentation is open to all.