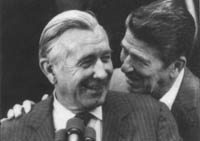 For the Record: From Wall Street to Washington
DONALD REGAN
TUESDAY, NOVEMBER 14, 1995 12:15 p.m.
Few executives ever climb the ladder to one of the top posts on Wall Street. Fewer still move on to the inner workings of Washington and the White House itself. Donald Regan's impressive professional careers extend from the battlefields of the South Pacific during World War II, to being chairman of a major Wall Street financial house, to the corridors of the West Wing of the White House during the Reagan years. In his visit to Claremont, sponsored by the Claremont McKenna College Republicans and the Henry R. Salvatori Institute, Regan will focus on his experiences both in the private and public sectors, and discuss his involvement in and perspective on important events that took place during his career.

A 1940 graduate from Harvard, Regan entered the Marine Corps and served in Iceland as well as in the South Pacific during World War II, from Guadalcanal to Okinawa. In 1946 Regan joined the Wall Street firm Merrill Lynch, where he would spend thirty-five years, becoming Chairman of the Board and Chief Executive Office in 1971. In 1981, at President Ronald Reagan's request, he joined the new administration as Secretary of the Treasury. Following Reagan's reelection, Regan moved next door on Pennsylvania Avenue and was appointed Chief of Staff to the President in 1985, a post which he held during a sometimes tumultuous two years.

Donald Regan was a contrarian, both on Wall Street and in Washington. He offers a personal perspective on both worlds. Please join us to welcome this accomplished and distinguished guest to our community.

Lunch is served at 11:45 a.m. Mr. Regan speaks at 12:15 p.m.