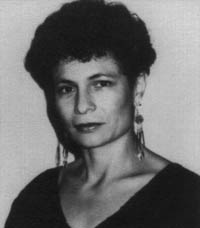 Reading From Her Work
HELENA MARIA VIRAMONTES
THURSDAY, FEBRUARY 1, 1996
In the introduction to The Moths and Other Stories (1985), the writing of Helena Maria Viramontes is described: "Acutely aware of women's dilemmas, Viramontes creates female characters who are a contradictory blend of strengths and weaknesses, struggling against lives of unfulfilled potential and restrictions forced upon them because of their sex." As such, Viramontes is a fiction writer who has become recognized for distinct style and eloquence.

With critics comparing her writings to those of John Steinbeck and Isabel Allende, Viramontes' first novel is considered a haunting portrait of the lives of migrant farm workers as they travel through America's fields. Under the Feet of Jesus (1995) recounts the story of a young woman who defies the poverty and injustice that overwhelm the lives of the other migrant laborers around her.

Thomas Keneally, author of Schindler's List (1982) and a former Athenaeum guest, says of this work, "Viramontes brings to her remarkable tale a wealth of robust colors and magic which is in the bone. After the normal liberal diet of the writing most of us do, readers will take to the lushness of Under the Feet of Jesus like a thirsty traveler to a well."

A creative writing professor at Cornell University, Viramontes is also community organizer and coordinator of the Los Angeles Latino Writers Association. She is currently at work on a novella, "Their Dogs Came With Them" (1996). "Paris Rats in East L.A." (1993), a collection of short stories, has appeared in several anthologies, including The Heath Anthology of American Literature (1993), Literature Alive: The Art of Oral Interpretation (1994), and Best Essays by American Women. She has edited Chicana Creativity & Criticism: Charting New Frontiers in American Literature (1988) and Chicana Writes: On Word & Film (1995). In 1989, she was awarded a National Endowment for the Arts in Fiction.