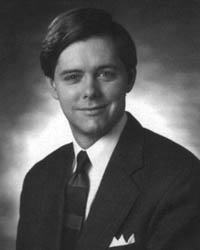 The Role of Religion and Values in American Politics
RALPH REED, JR.
MONDAY, FEBRUARY 19, 1996
The inevitable confluence of religious convictions and social problems has fomented intense national debate throughout this nation's history, affecting both legislative and judicial decisions. Religion has thus been a constant part of American politics. And perhaps no one else is better qualified to speak on this important matter than Ralph E. Reed, Jr.

As the executive director of the Christian Coalition, Reed heads one of the country's largest religiously-affiliated organizations that participates actively in U.S. politics. He leads approximately one million members and activists in 872 chapters in all 50 states. Operating full-time in 19 states, Reed's group has an annual budget of $20 million. These numbers and available funds demonstrate that the Christian Coalition enjoys a national prominence and influence that few other organizations may claim.

Developed through his college years, Reed's activist experience includes working for several grass-roots organizations and political campaigns. From 1982 to 1984 he served as the executive director of the College Republican National Committee, supervising the efforts of 100,000 members on 1,000 campuses across the United States. In 1984 he founded Students for America-a grass-roots network of conservative students on 200 campuses.

In the realm of electoral politics Reed is a veteran of several campaigns. Beginning with his first congressional campaign in 1976, he has worked on behalf of statewide candidates in Georgia, North Carolina, Virginia, and California. He also participated in Senator Jesse Helms's reelection campaigns in 1984 and 1990. During this time Reed consulted on 25 congressional and statewide campaigns.

A leading political analyst and strategist, Reed is a frequent guest on various television programs, including Larry King Live, Nightline, Meet the Press, and the Today show. His columns have been featured in The New York Times, The Wall Street Journal, National Review, and Policy Review.

Reed is a graduate of the University of Georgia and he holds a Ph.D. in American history from Emory University. As part of its ongoing series on The Changing Face of Religion in America, the Athenaeum invites students to take part in this unusual opportunity to meet with a foremost leader in the Christian community and one of its most influential actors in American politics. The John Brown Cook Association and the Salvatori Center are sponsoring Dr. Reed's visit to CMC. The dinner is open to CMC persons only and seating for the public is limited and not guaranteed.